These trees are just magnificent. Perfectly round and framing the beautiful Church of Eglise Saint Charles in Monaco. 
It's really a milestone, 100,000 photos. 11 years has passed since I bought my first pocket Canon IXUS 400 camera, which I loved and still has. It was 4 megapixels and did take some really good photos.
I always had the love for photography, but I never really did dive into it, until 2 years ago, when I started to buy more serious equipment and using software to improve my photos. And what a journey these last two years has been. The first few shots I made, even surprised me. Is this really possible? I thought. But it really is.
But how to get to this point I am now? Well, the most important step is to be serious about what you do. And you have to realize and accept that there is some real work in it. There is no silver bullet and a no button that says "Press here to get your awesome photo". It is true that many filters and tools exist, which will do 50%-80%.
But you know what? It's not the first 80% that counts; it's the last 20%. And the last 20% takes 80% or more of the time.
You can't really be sloppy, when you shoot or when you post process. But that doesn't mean that you have to fix every pixel in the photo. There are some basic rules that you have to follow, to make a photo work. Some of these rules are here:
Do not have burned out sky (white splashed in the sky) in your photos. Use ND graduation filters or HDR techniques to make sure, that you cover all light. I have tutorials on HDR on this blog right here.
Do prioritize to take photos during the golden and blue hour, or in city lights. Photos in the middle of the day are just so much harder to make great. I even stopped to take photography serious in the middle of the day, unless cloudy.
Be precise with your composition. If you are shooting something symmetric, then it MUST be symmetric. If something must be centered, it must be centered – not almost in center. The same thing applies to more complex compositions.
Do make sure the horizon is level, and if it is not, make sure it is obvious it shouldn't be.
Do not have "halos" in your photos. If it looks like that your horizon is lightening up the sky, it doesn't look good, and it is obvious you didn't put effort into the last 20% or simply, that you have to work more with the photo.
Try to avoid too much digital noise in your final photos. If you are doing HDR photos you are likely to get that. Use noise reduction software, to keep the noise under control.
Do not overdo the post-processing. It must work, within the style you are doing.
Clean up cigarette buds, garbage and other stuff from your photo. A cleaner photo simply works better.
In a photo like this train from Zurich Central Station in Switzerland:
I had to spend a few hours removing bugs, but the it is worth the reward, and the photo wouldn't have worked, if I hadn't taken my time.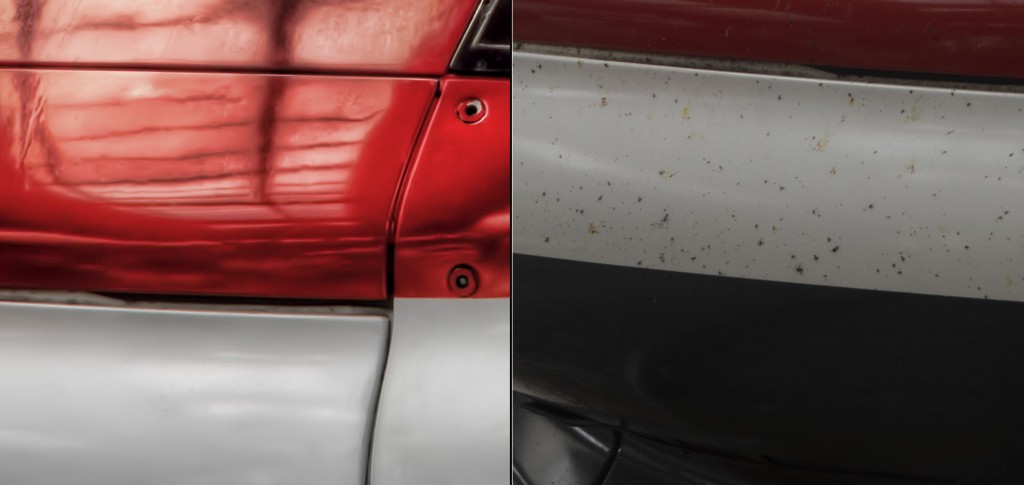 This I (of course) have learned bit by bit, and Rome wasn't built in one day. But each of these small steps, I improve for every photo that I make. I make a lot of mistakes, some I fix, and some I think, next time I will fix it.