To create this photo I have used the clone healing brush and the perspective crop in Photoshop.  It is a 7 shot HDR photo, and I used Photomatix pro, to create both a single tone mapped image and a double tone mapped image, which I mixed with the original ones.
The original photo is not a bad one, but neither perfect.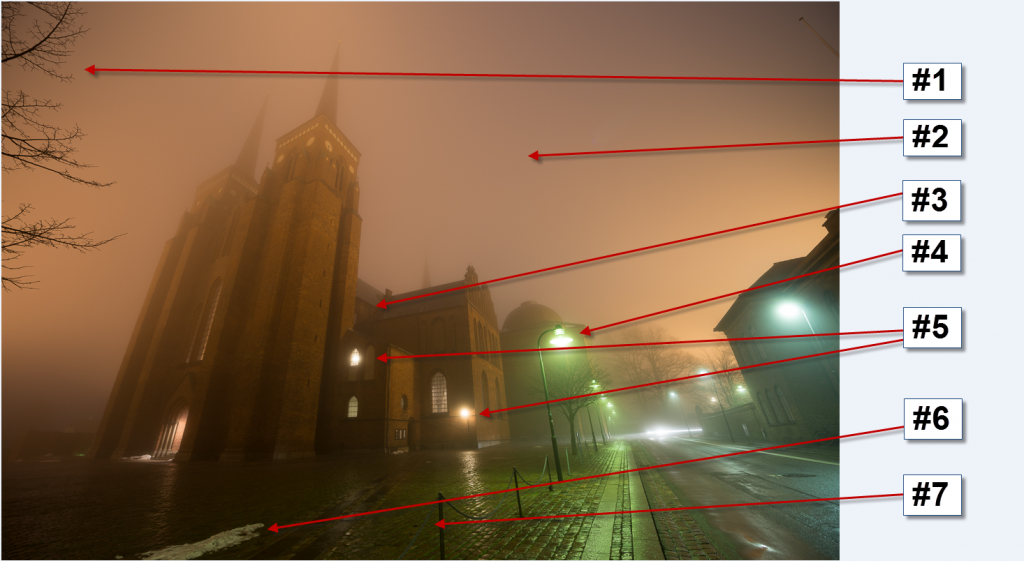 #1: I removed the branches. When I straighten the church, some disappeared, but I ended up removing them completely. When I took the shot, made sure, that they were included and did not cover the church. I used the brush healing tool in Photoshop.
#2 The sky I worked with, to emphasize the light in the mist. That is an important part of the mood. I increased the contrast and saturation a bit.
#3 The church I straighten to a certain level. I can't straighten it completely, because it makes a small fat church, which is not the reality. The compromise is somewhere in between completely straightened and this. Ideally I would have gone further away, but that was not possible.
#4 The acid color of the light from these lamp posts I didn't like, so I worked with the colors, and mixed that into my final photo. I did that, by making a new layer in Photoshop, opened the Hue/Saturation dialog (CTRL+U) and dialed back some of the yellow and green. I then mixed the lamps into my image.
#5 These lamps are blown out, but because I shot it in HDR I can achieve the moody great look from the lamps, in stead of just a white blob. There is not a lot of dynamic light in this photo otherwise, but the lamps I save.
#6 I then used more healing brush to remove the snow. I used a clone stamp after wards to get a better result on the cobble stones.
#7 The cobble stones is the double tone mapped image. What I get from the double tone mapped image, is the lovely reflections from the lamps and the many details and textures in the cobble stones.
This is one of the photos, where you might ask "Why HDR it?" – well, I did get more details within the windows of the church and on the lamps. I also got more shots, so that I could remove people and the car coming around the corner. And then it added some of the magic, mysterious Jack the Ripper mood.