Basilica de Santa Maria del Mar in Barcelona. A vertical panorama of two stiched photos.
I am a total wide angle lens addict and I have much more than I actually need, but they serve different purposes and have different strengths and weaknesses.
The Voigtländer SUPER WIDE-HELIAR 15mm III is one of my favorites, even if it has some limits. The most obvious advantage is the size of this lens. It is super small and it is a perfect match for a Sony alpha FE camera, like Sony A7R or Sony A7RII.
The build quality is solid, but due to the small size, the weight doesn't run off, even if it is all metal and glass. That makes it great for traveling light.
What I also like about it, is that being a prime, it is super easy to focus. I just crank it all the way to one side and it is focused at infinity, which often is good enough. With a little practice I have even found the amount I have to twist contra to get to the hyperfocal point.
I work a lot in the dark and focusing can sometimes be a hassle, because the lenses hunt. But the Voigtländer is super easy. Of course, it does not offer autofocus, but for my line of photography, this is no problem, as long as infinity focus is easy.
It does come with soft corners at f/4.5, but even at f/5.6 this improves and at f/8 it is reasonably sharp across all of the frame. It is not as sharp as my Zeiss Batis 18mm f/2.8, which is insanely sharp, but plenty sharp to be working seriously with. The Zeiss is just in a league of its own, and it is twice the price.
The most obvious drawback is that it is a slow lens. It is only f/4.5. But, when I attach it to my Sony A7RII, which has image stabilization in the house, I can handheld 1/8 of a second, if I concentrate. This makes it possible to shoot HDR photos indoor, in fairly low light conditions.
Hand held at ISO 1600 and f/4.5 using image stabilization. Slowest exposure is 1/8 of a second.
This photo from the Cathedral of Barcelona, I have handheld three shots at 1/125, 1/30 and 1/8 of a second, at f/4.5 and ISO 1600 on Sony A7RII. Here is a 100% crop of the 1/8: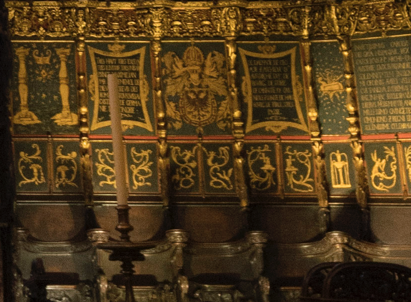 This is the unedited RAW, without sharpness and noise reduction applied. This is highly usable, even the noise levels are well under control, thanks to the amazing Sony A7RII.
I also find it very resistant to flares, compared to some of my other wide angle lenses. Flares are a part of a life with wide angle lenses, but I rarely get frustrated when I use the Voigtländer 15mm.
The lens allows screw on filters, but you can't remove the lens hood and attach a filter system. As I started out with, the various wide angle lenses have their strengths and weaknesses. For that reason, I also have the Zeiss Batis 18mm f/2.8, which allows 77mm filters to be attached, and I can use my Lee filters on that.
I always carry my 15mm Voightländer with my Sony cameras, because it is so small and easy to bring along.
–Jacob