Nikon D800, Nikkor 14-24mm, HDR of 5 shots.
Updated 2015-07-13: Since I initially wrote this post, I have bought the Sony A7R and later I have bought the Sony A6000 as well. I have adjusted text slightly.
Which brand to choose? It's one of the difficult questions. Is Canon better than Nikon? And how about Sony? How good are they? Before I got into photography for real, my impression was, that Canon and Nikon were about the same. Sony was somewhat behind and the rest of the brands even further away from the market leaders.
But having owned all three brands Canon, Nikon and latest Sony, I must admit that there are some quite big differences, both in performance and usage. I have written a very well-received review, based on my long time using both Canon 5D Mark III and Nikon D800 and D600 all together intensively. Having owned both brands for a longer period, does give you a different platform, to write a review from, than if you borrowed a camera for a few days.
You can read the entire review here.
How about Sony? The Sony A7R has got the same sensor as the Nikon D800 and they perform almost equally as well.
After a long time considering it, I first bought the Sony A7R and more recently I also bought the Sony A6000. But, did I do the right thing? I still have my Nikon cameras and I still use them – a lot! The huge advantage is that despite the smaller size the Sony A7R delivers the same image quality as the Nikon D800. I can carry a standard 28-70 lens as well as a 10-18mm lens, and it weighs the same as the body of the D800.
The huge disadvantage of the Sony is, a rather small lens lineup for the Sony, but it is improving. New lenses are coming in a slow but steady stream, and some are good, and some are very good. However, it is not too much of a problem, with the weak lens lineup, because Sony has done a clever job with the Sony E-mount/FE-mount. You can buy adapters to virtually any camera brand. In other words, I can use my Nikon lenses on the Sony A7R. I lose my auto-focus and EXIF information, it's annoying but not a big problem. The manual focus, using focus peaking, on the Sony A7R works extremely well. I have bought the Metabones adapter. There are cheaper options and one more expensive Novoflex.
In my opinion, Sony is in the lead when it comes to innovative, high-end cameras. The Nikon D800/D810 and Sony A7r sensors are the most awesome sensors made so far, for landscape photography. The Dynamic range is still unrivaled, and the amount of mega pixels is incredible. But Sony has managed to pack it into a very small body, without comprising quality. Nikon and Canon could learn a lot from this. If they don't pull themselves together in this area, they will lose big time to Sony in the long run.
A lot of other cameras like the Fujifilm X100 or X100s are incredible too, but 12 or 16 megapixels, just doesn't cut it for me. I would like to have the higher megapixels, to have the option to print really really big or to crop a photo.
My observations on the three brands are:
Nikon
Highest Dynamic Range available currently. Even entry level cameras have higher Dynamic Range than Canon 5D Mark III.

In entry level cameras, the low light performance is decent.

Very engineer like. It's difficult to find your way in the menus.
The 3×00 series does not have Auto Exposure Bracketing (making it more difficult to make HDR's)
Good lenses
Has got the best wide angle zoom lens available across all brands, the Nikon 14-24mm.
Canon
Has got the worst dynamic range through out the entire range of cameras.
Has got the worst low light performance, on entry level, but high end is up to speed.
More user friendly than Nikon.
Auto Exposure Bracketing is available on all models I have heard of.
Good lenses
Sony E-mount cameras
Mirror less and much smaller and lighter classic DSLRs
Exists from entry level to semi-pro
Entry level cameras have got the best low light performance
Using an adapter, virtually any lens can be used on the E-mount.
Has got similar performance in the Dynamic Range as the Nikons
Lacks the option to have Auto Exposure Bracketing on timer. It may seem like a small thing, but if you shoot HDR photos, it is pretty annoying.
The lens line up is not very impressive. Especially if you are looking into the full frame lenses, but this is compensated by the ability to use adapters for other brands. I use my Nikon lenses on the Sony Alpha 7R.
What is the real difference between high-end cameras, mid-range and low-end DSLR cameras?
What you pay the big bucks for is low light performance, low-end cameras simply have got worse low light performance. I have had entry level DSLRs, experience with mid-range DLSR cameras and owned several high-end DSLR cameras. They all take great photos if used right. Even the cheapest entry-level DSLR with a decent lens, can do awesome photos. This is a shot with my old Canon 400D using the kit lens:
The ability to take (hand held) shot's indoor in poor lighting conditions, that is what you pay for, when you buy a more expensive camera. Then you also pay for a number of features, which are nice to have, but not strictly necessary for everybody.
This photo is shot at ISO 12800 using the Nikon D800: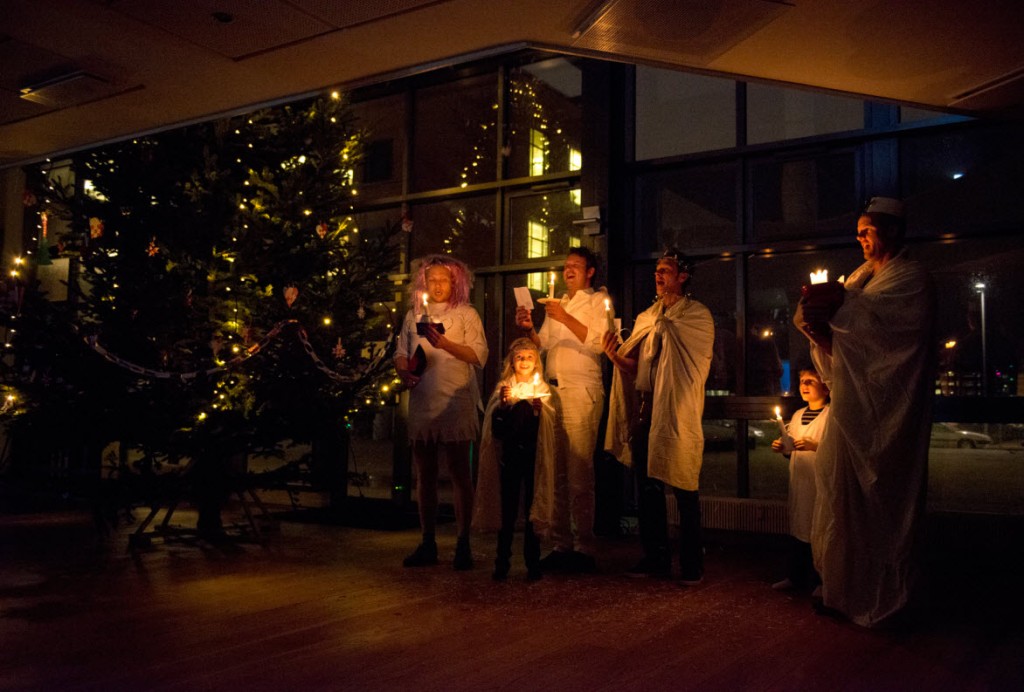 My old Canon 400D could go to ISO 1600, and the quality was much too poor to use for anything. I could never have taken the shot above, using that camera. And the same goes for any entry-level or mid-range DSLR or mirror less camera. This IS what you pay for, when you buy the high-end professional or semi professional cameras.
The technology is working for us and the sensors are getting better and better at low light photography. But in a situation like this, I couldn't have gone higher than ISO 12800 to get this image. I used the Nikon 24-70 at f/2.8 (as open/fast as it goes) at 1/100 sec shutter speed.
A faster lens, of course could have helped a bit. But the essence is, that you pay to get a camera that can do this. The really expensive pro cameras like the Nikon D3s, or the Nikon DF and probably also the new D4s are extreme in this discipline. That's because the sports and press photographers, they need to be able to take a photo in any condition.
As you climb the ladder and buy more expensive cameras, you get more features. Auto Exposure bracketing is not available on the Nikon D3x00 series, but available in the Nikon D5x00 series. Canon 7D offers an 8 shots pr second.
Features also gets easier access; instead of rumbling around in menus you get buttons. You also get faster cameras (more shots pr second). And in some cases more megapixels. Some are better at videos than others and some better at low light photography than others.
The real jump comes, when you move from cropped sensors to full frame sensors (I have an article on full frame and cropped sensors here, if you don't know what the difference is).
A larger sensor is much better at capturing light. It is quite obvious that the larger each little sensor cell is, the better it is. And a larger sensor (given same pixel count), obvious has larger cells to capture the light.
So unless you jump to the full frame cameras, my opinion is, that you don't get a low light camera, not yet at least. A lot of research happens in this area, and the technology is improving, with each generation of the cameras.
The D800 is just … JUST good enough. The 5D Mark III is better and apparently the new Nikon DF is even better again. But they are all within the same ballpark. And the cropped sensors are playing in a different ballpark.
So if your budget isn't cut for a full frame camera, get a cropped sensor DSLR and invest what you can in a decent lens. The lens is more important.