I am going to Art Monaco 2014 to exhibit two of my photos. Art Monaco receives about 10.000 visitors from all over the world, in just 4 days. That's an incredible lot of people in a very short time. This is going to be very exciting.

It is the International Fine Art Realist Painter  and gallerist Mona Youssef, who has invited me, and I am very proud and I am looking very much forward to work with her. Mona does realistic landscape paintings, while I do a lot photos that looks like paintings. Have a look at some of paintings, they are absolutely beautiful. You can find them on her web-site www.mona-gallery.com.
Booking my hotel in Monaco, proved to be more difficult, than first anticipated. The first couple I wanted to look at, had no vacancy at all, but I managed to find one, a bit further away, than I had hoped – but at least within walking distance! The prices in Monaco, really can really go over the top!
While I do like the prints I have made so far, I would like to go a notch higher in quality, if possible at all. I have been searching and searching, and asking people where to get the best quality. It really is the framing, I am only 98% satisfied with. In a couple of weeks I am going to a showroom, to see various print types.
About this photo
I shot this photo in Saint Mont Michel in France. Saint Mont Michel is one of the biggest tourist attractions in France with more than 1.2 million visitors a year. Disneyland Paris has got 14,5 million. And Disneyland is probably 5-10 times larger than Mont Saint Michel. That put's it into perspective, how many people come to visit Mont Saint Michel.
However, if you venture of the main street after you have had your traditional omelet (in the old days travelers had an omelet, when they arrived to Mont Saint Michel) for dinner, you can find empty streets and alleys like this one.
The making of this photo
This photo is one the photos I have pushed furthest away from the original photo. This is the original: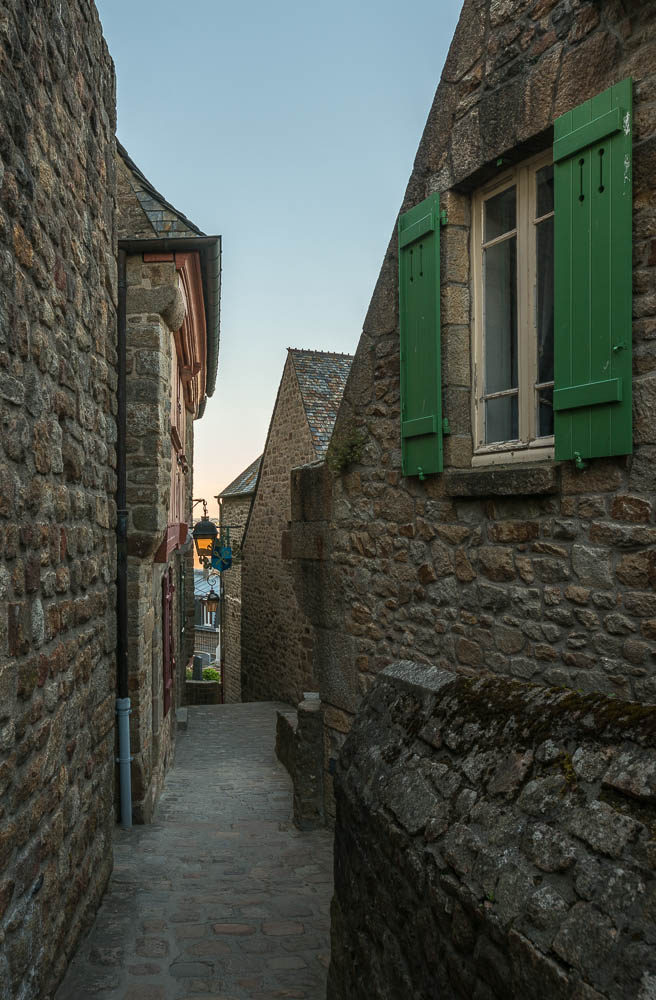 As you can see, quite a different image. What I did, was to add a lot of artificial light sources. Things that are not present in the photo at all, and then I added some warmth to the photo as well. I also made it darker, to simulate night time.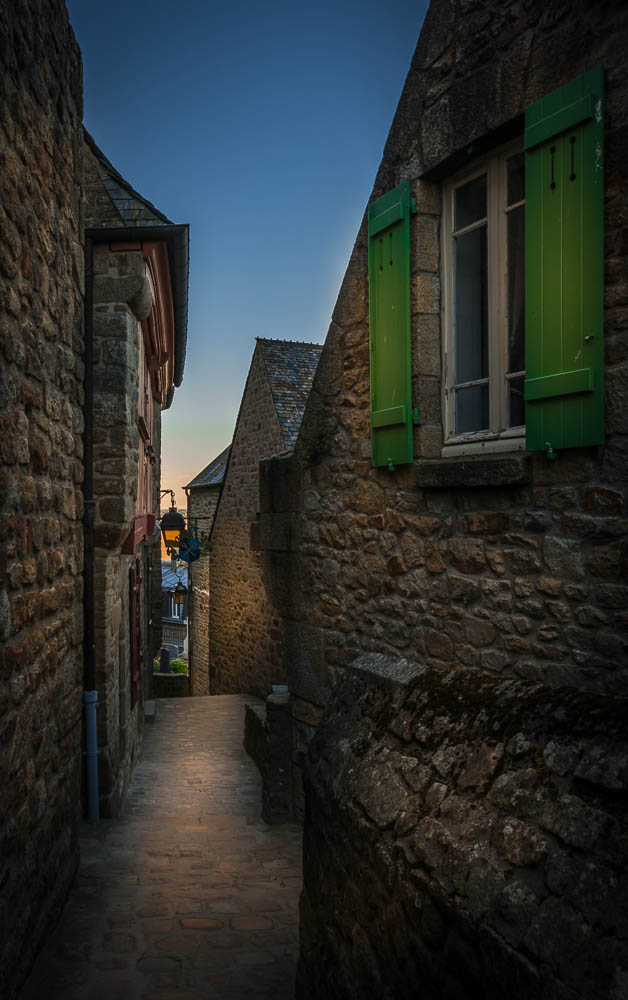 But what really pushed the image home, towards the final look, is putting it through Photomatix Pro.  Photomatix does wonderful stuff to artificial light sources, this I have shown in detail in this post. It's the same method I have applied here. The result has to be fixed, because it goes over the top, but that is the same you have to do with everything you put through Photomatix Pro – it is only 2/3 of the final photo.
If you too want to experiment with Photomatix, either for doing HDR photos or more painterly like photos, you can try it for free, but you can also buy it with a 15% discount, by using "caughtinpixels" coupon code. You find Photomatix Pro here.