Nikon D800, Sigma 12-24mm, ISO 400, f/8.0, 0.8 sec (0-exposure)
This photo is from the small church in Mont Saint Michel, France, just outside the huge monastery.
In my review of Canon 5D Mark III, Nikon D800 and Nikon D600/D610 (you might want to read it here), I described my considerations on ultra wide angled lenses, and how it eventually made me switch from Canon to Nikon. A switch that first was more or less cost free, because I focused on fewer lenses, but as I have bought the lenses again, has become a very expensive switch.
For reasons I can't explain clearly, I missed the fact, that Sigma does an extremely ultra wide angled 12-24mm zoom lens, for full frame cameras. I think the reason I missed it, might be that both Nikon and Canon does a 12-24mm for cropped sensors, and I just put the Sigma lens in the same basket, and that was a mistake!
Had I noticed this Sigma lens much earlier, I would probably never have changed from Canon to Nikon, because it is the ultra wide angle that I wanted. I do not regret the move from Canon to Nikon today, after having come to know and love the Nikons.
Why is it that you want to have an extremely wide angled lens? For me, it is to be able to include everything in a tight spot, like this very small church on Mont Saint Michel in France.
This is shot at 12mm on a Full frame camera. Even at 14mm I wouldn't have been able to capture both arches, and include the alter in the near one, at the same time. I would have had to make a compromise on the composition and lose something.
This is the before photo: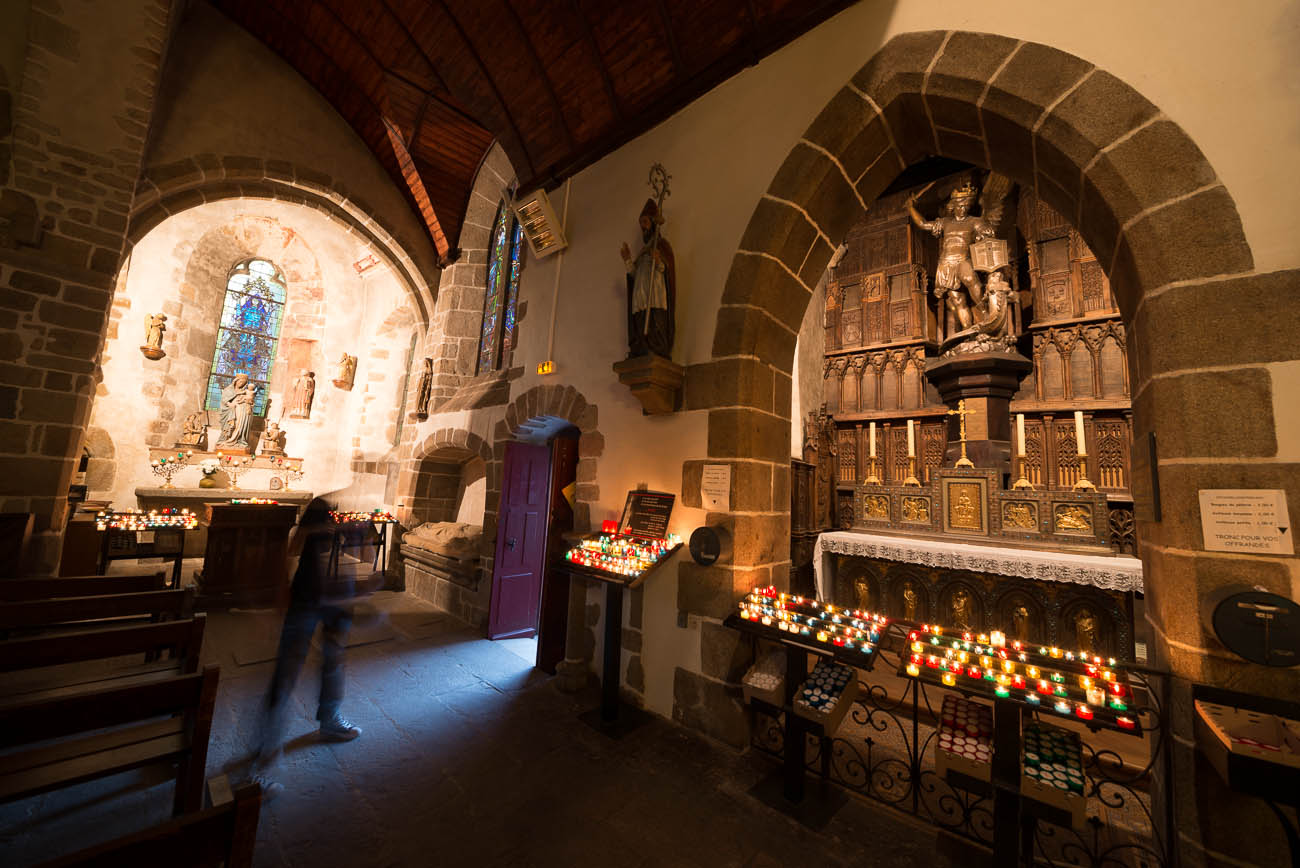 The Sigma 12-24mm is the widest, non-fish eye lens there is on the market, for a full frame camera, and that alone is an argument for getting this lens. Because it is a Sigma, you can get it for several brands, including Sigma, Sony, Nikon and Canon.
Who can use this lens this lens?
I would say, that this lens is good both for Full Frame owners, and owners of cameras with a cropped sensor. And if you at some point in time think, you might just want to upgrade your cropped sensor camera, to a full frame, this is really a good option, because you can continue to use it. Yes, it is more expensive than e.g. the Sigma 10-20mm or the Sigma 8-16 for cropped sensors, but you can keep the lens, when you go to the full frame camera.
Check the prices on Amazon
Sigma 12-24mm f/4.5-5.6 EX DG ASP HSM II
or at B&H
Sigma 12-24mm f/4.5-5.6 EX DG ASP HSM II
Be sure to get the new one, because it's much better than the old one.
Full frame alternatives to Sigma 12-24mm
Before going into the real review, let's look a bit at some alternatives. There are alternative ultra wide angled lenses, but none that go as wide as the Sigma 12-24mm. You can check the prices on the alternatives.
Canon 16-35mm f/2.8
Expensive, much the same image quality as the Canon 17-40mm, but faster and wider.
Check prices at Amazon
Canon 17-40mm f/4,0
Cheapest of all. Image quality is soft in the corners and and chromatic aberrations are bad.
Check prices at Amazon
Canon 14mm f/2.8 prime
Very expensive and badly reviewed, in particular compared to the price.
Check prices at Amazon
.
Nikon 14-24 f/2.8
Very expensive, but it's an awesome lens. Heavy and bulky. Requires special filters.
Check prices at Amazon
.
Nikon 16-35 f/4.0 VR II
Mid priced good lens with image stabilization. Only f/4.0.
Check prices at Amazon
.
There are other lenses, but they typically start at 16-18 mm. And of course this is ultra wide angled lenses, what I really wanted was the super ultra wide angled lens.
Cropped sensor alternatives
The one ultra wide angled lens, that I know on cropped sensors is the likewise Sigma 10-20mm, and that is a good lens. But if you at some point think, you will upgrade to a full frame camera, do consider using the Sigma 12-24mm, then you only have to buy one lens.
Sigma 10-20mm
Check prices at Amazon
.
Tokina 11-26mm f/2.8
Supposedly a good lens. It's fast.
Check prices at Amazon
.
Sigma 8-16mm
This lens is more or less the equivalent to the full frame 12-24mm lens. And if you have a cropped sensor camera and want to go REALLY ultra wide, this is the lens.
Check prices at Amazon
.
Performance of the Full Frame Sigma 12-24mm
As all of my other reviews, this review is unscientific and very personal. The scientific ones exist in huge numbers, but what I find they sometimes lack, is the "how does it work in real life" perspective. I try to review from a real life usage perspective. If you want the scientific reviews find heaps of them on Google.
I have taken 2000 photos with this lens (many of which are HDR) and feel that I know it really well and I am very happy with it.
Lens distortion and vignetting
The first thing I noticed when I got the lens, was the barreling of the lens, which is quite strong at the low end. Both examples are shot at 12mm:

Left: Lens correction enabled in Lightroom. Right: Original.
Lightroom does a good job of un-barreling the photos. In real life, this has proved no problem to my photos at all. This is the photo from the church unprocessed: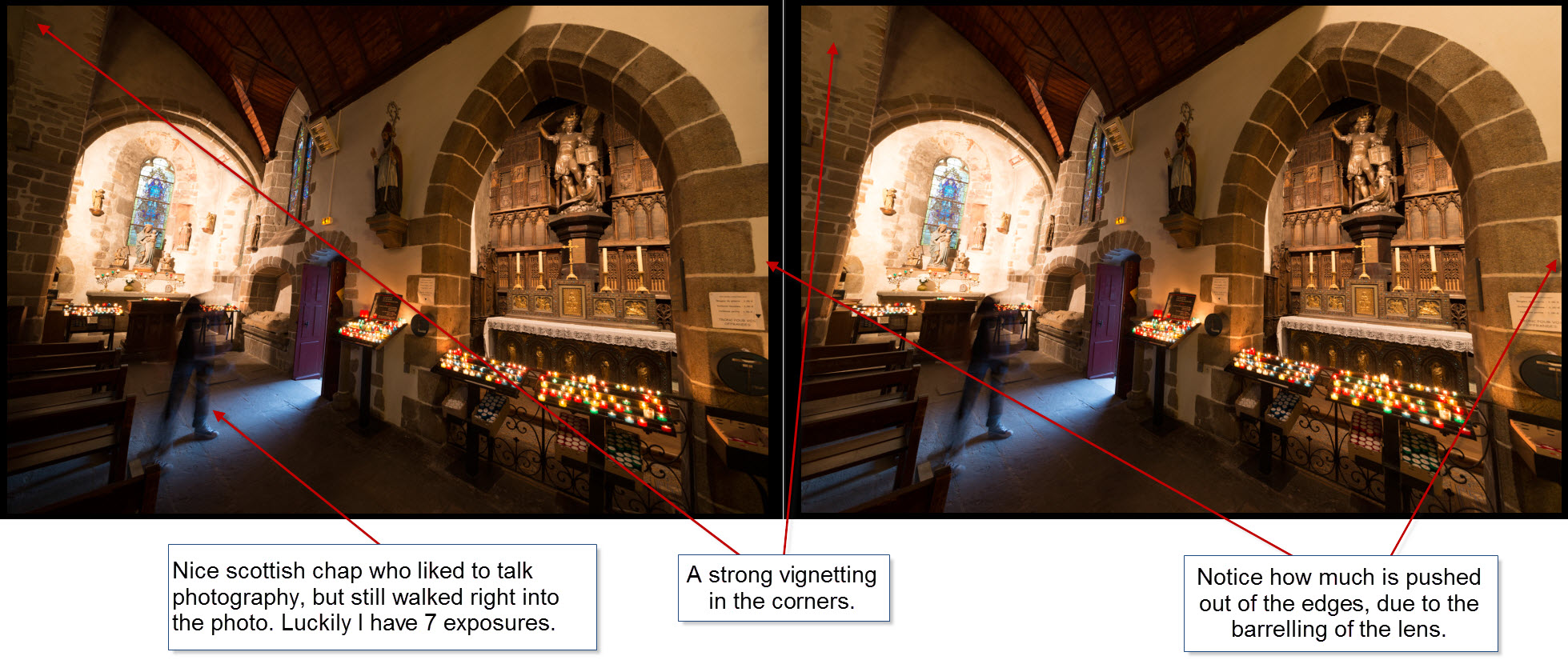 If you are doing something, with really delicate architectural lines, this might be an issue to you, but I find it no problem with my photos, even the ones with buildings and straight lines included. I shot all of my shots from Mont Saint Michel, with this lens.
(BTW: Notice the nice Scottish chap in the middle of my photo. Out of the 7 exposures I took, he managed to get himself included in the 5, but I only needed one with out him, to get remove him)
There is also a strong vignetting, but again the lens correction in Lightroom easily handles this, and this proves no problem to me.
Chromatic aberrations and Sharpness
One of the things that really annoyed me with the Canon 17-40mm lens, was the softness in the corners and the chromatic aberrations. So this has really been something that I focused on, when I got a new lens, and I expected the worst with the Sigma lens, because it is so extreme. But I got surprised.
The Sigma 12-24mm is a little bit soft in the corners, but it is no big deal and chromatic aberrations is well under control. I haven't noticed them at all.
From this photo: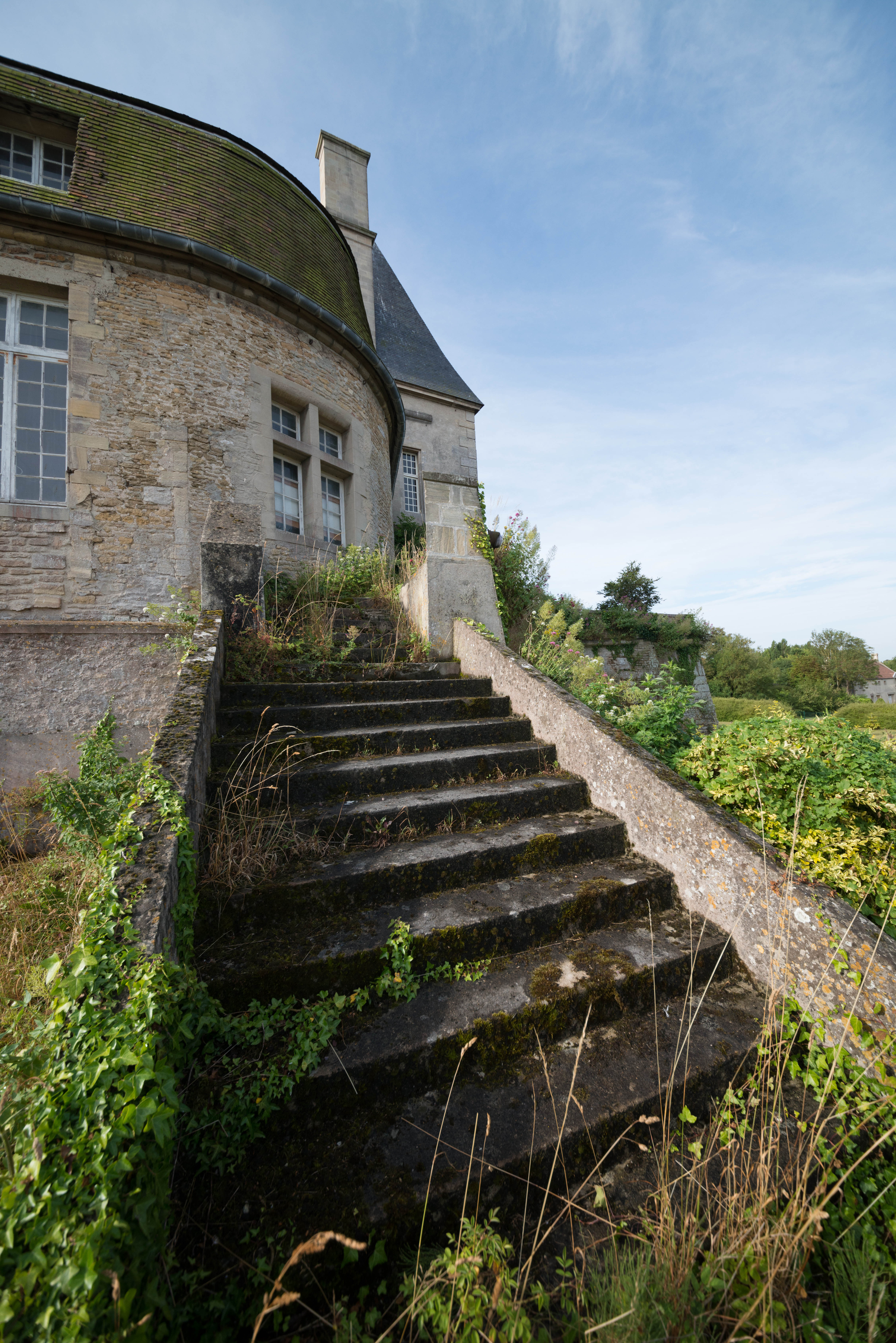 Click on the photo to see it 100% (it's only 60% jpeg quality, but it is in full resolution).
Let's look at a 100% crop from the corner and the center: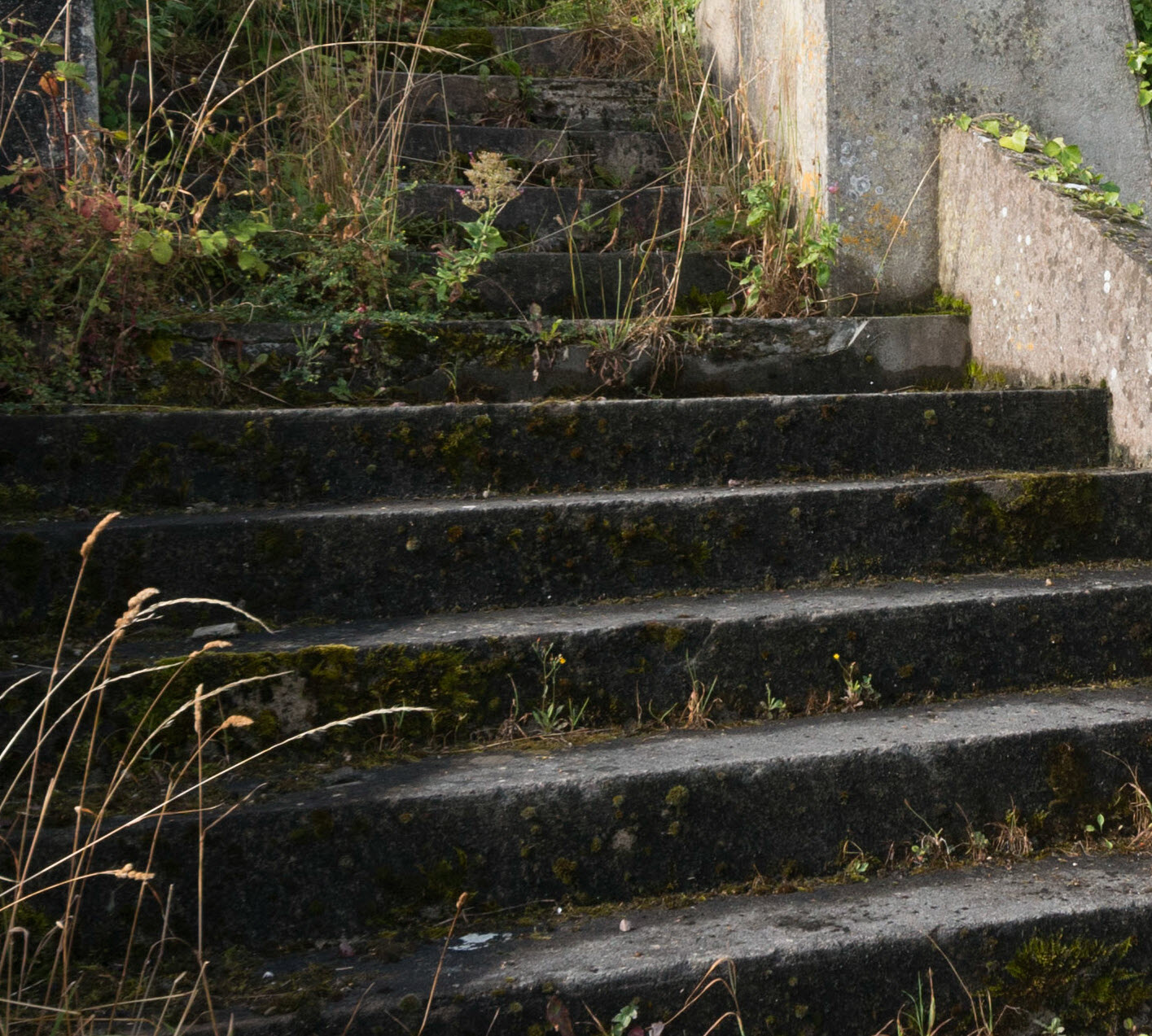 100% crop of the center. It is tack sharp.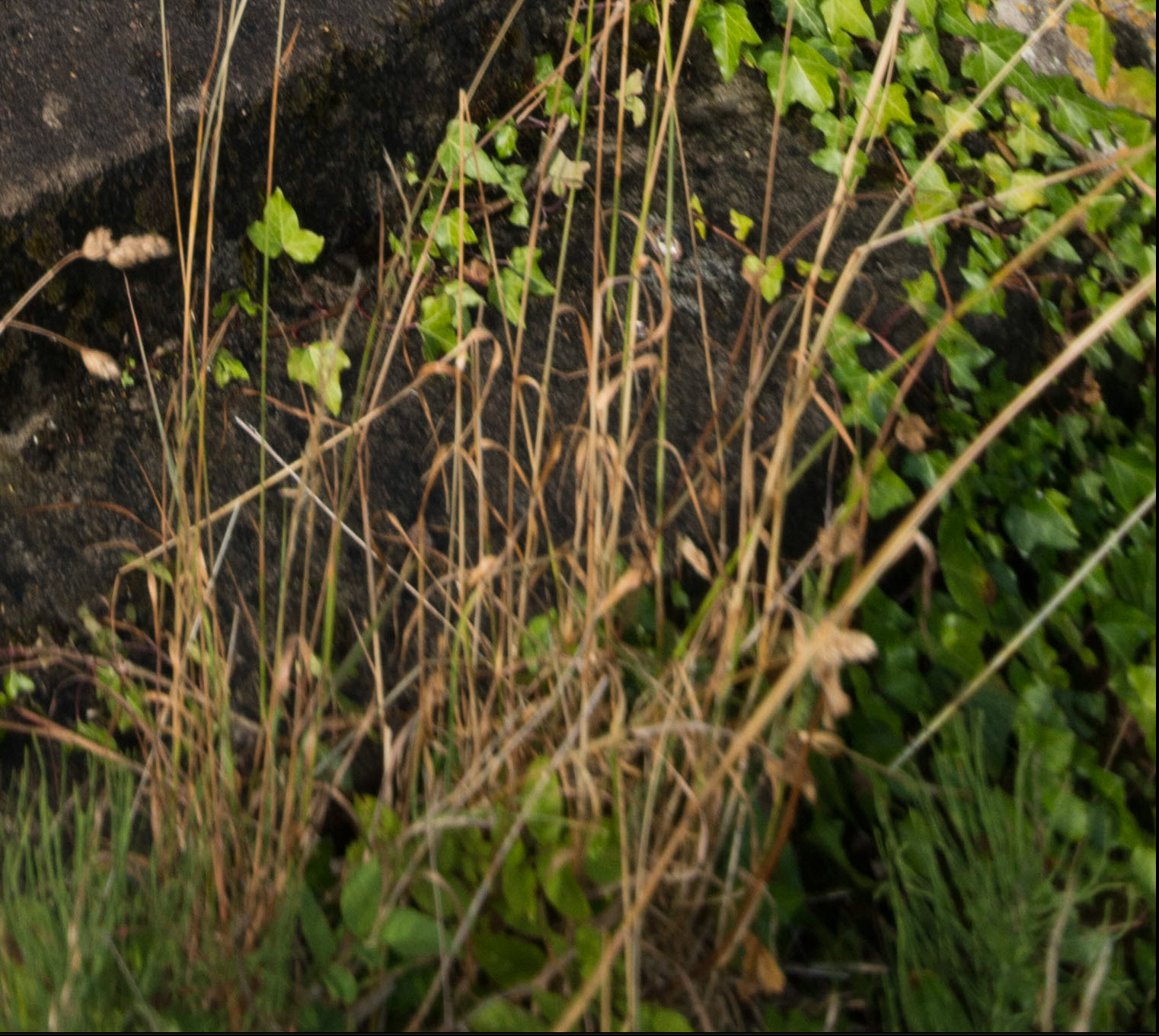 100% Crop of the corner. A bit soft.
The corner is a bit soft, but it quickly changes into sharpness as you close into on the center. This is a very small piece of the corner in a very large photo. Yes I can see the softness, but it has proven no problem to my photos. My flagship, the Nikkor 14-24mm, also has some softness in the corners, less than this, but it does have it.
Speed – the f-stops
The lens is what you will call a slow lens, and it does not have a fixed f-stop. This means that if you are on 12mm you can open it up to f/4.5 and on 24mm only to f/5.6. Is this a problem? Yes, if you are shooting in dark environments, otherwise not. You will get longer shutter times or will have to increase the ISO to a higher level.
I shoot a lot of night photos, and sometimes I like to use the f/2.8 the 14-24mm the Nikon lens offers, but all of my night shots from Mont Saint Michel are shot with the Sigma 12-24mm lens, and that worked really well for me. I chose that lens, because Mont Saint Michel has some really tight spots, and I didn't want to have to cut something off, just because my lens wasn't wide enough. And as you can see in this photo and the other examples, this has proved no problem.
Professional lenses are always fixed in the lower end, and I assume that if you shoot a lot on manual, fixed f-stop is nice, because it gives you fixed shutter speeds too. But I almost always shoot in aperture mode, and then the camera does the rest of the calculations. And then it's no big deal – yes I do get a bit longer shutter times, but that's OK. I'm on tripod anyway!
Flares
Yes, it produces flares. As does all of my wide angle lenses. It seems perhaps a little better than the Nikkor 14-24mm, but not as good as my Nikkor 16-35mm. But as in everything in photography, there are compromises. If you want to shoot at 12mm, you have to accept a lens that is prone to make flares. This is the only lens, that will give you 12mm on a full frame camera.
Verdict
My verdict on this lens, is that it does have some really bad barreling, but for my purposes, that is not problem. I have no hesitations on putting it on my camera. It's even lighter and much smaller, than my flagship, the Nikkor 14-24mm. That is a nice change. And in a tight spot, those last 2mm from 14mm to 12mm, can be what does make the photo possible at all.
One drawback is, that you can attach 77mm filters too it. It does have an extra collar, that you can screw something on. However, if you leave it on, you can go to 12mm, because you will get black corners. In my world, this is a lens for use without filters.
The sharpness is good, a bit soft in the corners, but not more than I can live with it.
I other words, this is a lens that I can recommend.
Examples
These are some examples of my published photos, using this lens.