I have a normal job and work at regular business hours and I do not work as a photographer. I work in an IT consultancy company called Pentia. I also have a family. So when do I get time to take photos? Well, when the opportunity is there – I'm prepared so to speak. This is what my bag looks like at any given time: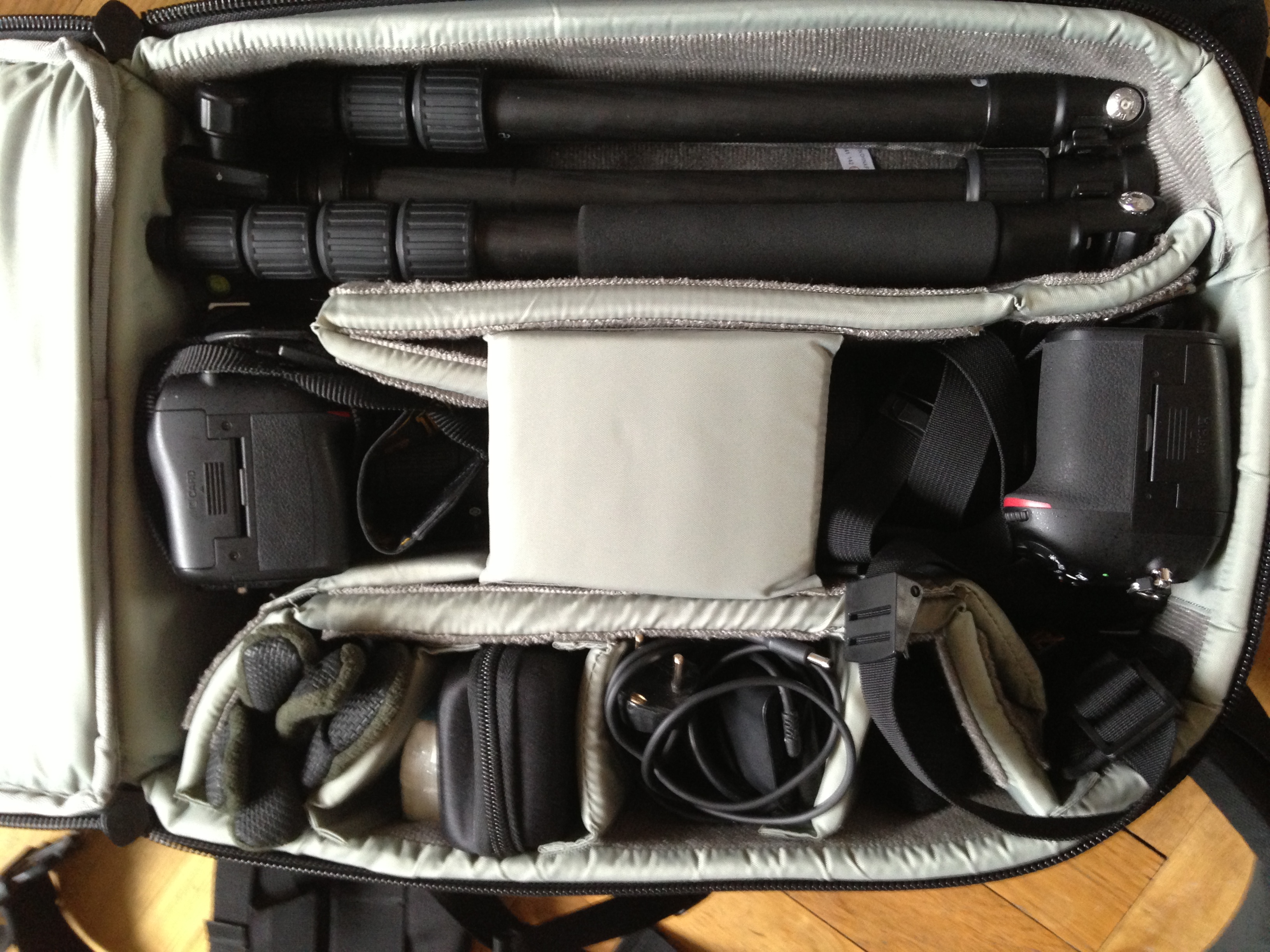 And I always carry my bag around. Sometimes I take out the D600, to get a lighter bag. What you find in here is:
Nikon D600, with a standard Zoom lens (24-70mm)

Nikon D800, with a wide angle Zoom lens (16-35 or 14-24)
Sometimes I also have a 28-300mm along.
Promote control (for taking HDR photos)
Mouse – for my laptop.
Fishing glowes, that can have individual fingers uncovered
Full size tripod.
Polarizer
Extra memory card
Extra battery
Cloth to wipe things clean

Sometimes I take out the tripod and carry that in my hand to allow room for my Lee filters set.
By carrying this bag always – and I mean always, I'm always prepared. What I have come to learn over the last 3 or 4 months, is that, if the light is not good, don't take the shot. It's a waste of time. The only reason to take a shot is to practice composition.
Going to work and leaving work during the winter time, matches sunrise and sunset, which allows many photo opportunities. And I do spend 15-20 minutes if the light is right, to walk that extra mile, to get something.
I'm also getting better at stopping the car, and taking the shots, when I see something pretty, while I'm driving.
This is the way I can make it work for me, as an amateur photographer, with a fulltime job and a family. I do get to travel a little bit, as a part of my job, and we travel some privatly, and I do bring my camera, but it is far from every time, that I get photo opportunities.
Sometimes I go for a specific location at sunrise or sunset to shoot. Every time I do that, I get awesome photos. That is really what it takes. Be there or be square… It's a lesson that I'm still learning and is still trying to make fit into my life, but it is not easy.
My spare time I use for processing the photos. I have far too little time to do this and only a few of my photos reach the public. I try to post at least one successful photo from each of my "shoots". But from a scene I might have somewhere between 5 and 30 photos, that I could process and get great looking photos, but I only process one or two. First of all I would like to share photos with a variety, second I keep some in store, for a time, when I might not have as much to take photos, and still want to process photos.
Some of the photos I bring home, might lack something in the composition, some may be more difficult to process. I usually process those I instantly like the most, and save the rest for later. Some shoots may have been in a different light, that what I have tried before, and I have to figure out how to get great photos in the processing.
When I have been on a vacation and shot a fairly large amount of photos I spend a long time sorting and processing. The problem with travelling is, that far too often you come across wonderful things and places, but at the wrong time of the day, with hard light. If you can get a good photo out of it, you have to spend a long time trying to save the photo in Lightroom and/or in Photoshop.