I have been thinking a lot about, what it is that I do, when I create my photos. I don't just press a button or run it through Photomatix Pro, and then that's done. It is a creative process, in which I mix a number of versions of the same photo into the final photo. I use Photoshop to mix the various images into one. 
What I started out doing, was to create the Photomatix photo, and then mixed some of the original parts into the one from Photomatix, eg. the sky. Photomatix really handles skies badly. Another thing that I started doing not so long ago, was to get a good sky done within Lightroom and then use export that into Photoshop and use that sky along with the Photomatix image. The first one I did something like this on, was The Frozen Setting Sun, but I did not realize at that time, how you can use this even more extensively. If I can get some part of a photo better in Lightroom, I can just export it and mix that into the final photo, the way I mix the Photomatix one with the original shots, anyway.
I have been preparing some photos, that I will be working on for the next couple of days, using this  principle. I will try to explain what I did and show some examples of what I was working with.
Todays photo is from Amsterdam. This is not long before sunrise, and the sky has begun to become brighter.
Actually the original photo is not bad in it self. That's because, the sky still isn't so bright, that the camera can't capture all of most of the light. What the HDR ads to this photo is nice light in the trees and the reflections in the water.
The original photo looks like this.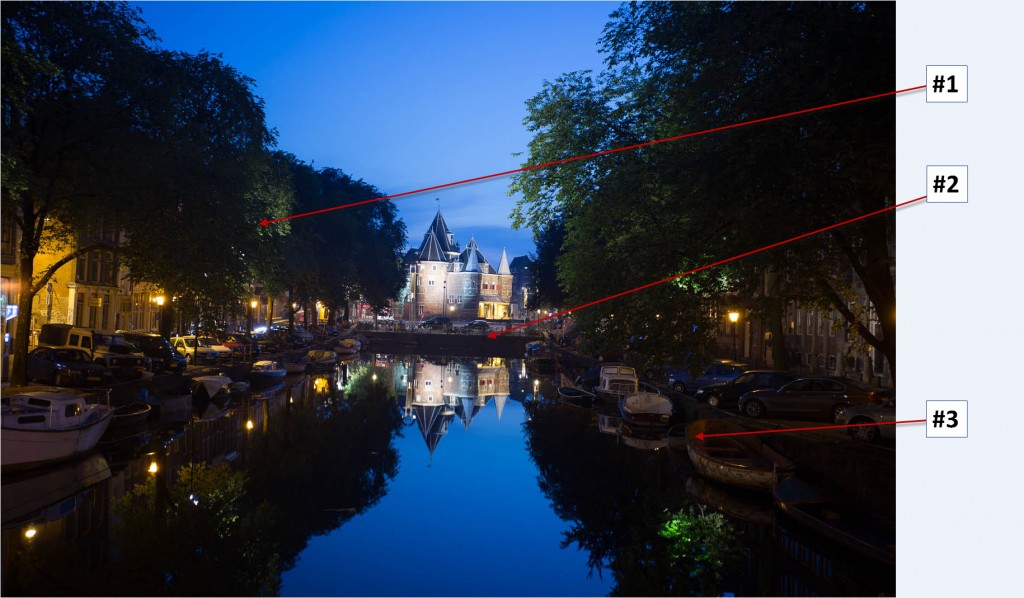 #1 The trees are very dark in the original photo. The HDR adds more light to the trees.
#2 The horizon is tilted, I straightned it.
#3: The reflections really adds a lot of interesting light to the image. Not that it is bad like it is, but the reflections just are nice.