On the first floor of a sky scraper on the magnificent mile in Chicago we had a great big american steak, that doesn't get any better, at Michael Jordan Steak house. It was superb. While sitting there, I was looking at this fantastic hand painted ceiling of a kind of African style. I took a picture of that (to be published later). While taking that shot, I looked down the hall way to the area with elevators, which looked interesting too. I walked down there, and saw something more fantastic. I saw this Egyptian stair case on the first floor in a skyscraper – wow, how did that ever get there?
About the processing
This shot is a very typical double tone mapped HDR photograph. You can see it from the strong enhancement of the details. When you do a double tone mapped HDR, the details are enhanced quite a bit, and you have to be careful not to over do it and you have to be aware that you are moving into a surreal zone. Many photographers don't like this area, because it doesn't portrait reality as it looked. No, true enough, but neither does black and white photos. A double tone mapped image is like a painting. I put no less work into making a double tone mapped image, than I do into making any other image. It doesn't make it less good, than any other photos that it is a double tone mapped image and I like it, and many people really do. But some there are people who don't like it.
This is the 0-exposure original image: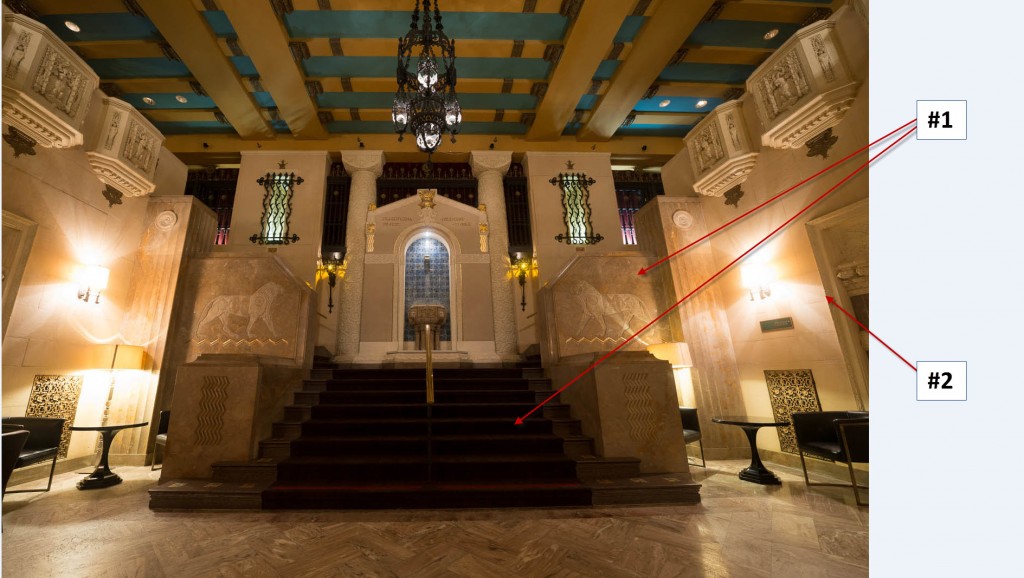 #1 Notice how the details are enhanced, compared to this original photo. While this is an ok'ish photo, I like the double tone mapped much better. The rug on the floor also has got a lot more detail and texture. I like that in the final photo. A double tone mapped image is an HDR image that you created with Photomatix Pro, and that you tone map once more. This is easily done, by clicking "Tone mapping" once more in Photomatix. The photo goes complete crazy, and you have to turn down the saturation and the luminosity to achieve the desired effect.
#2 I have straighten the photo up. As you can see the lines are tilting, and that is because I was using a really wide angled lens at 14mm. And because I tilted the lens slightly upwards, the lines start to get really tilted. This is an effect, but also a nuisance, that you have to learn to handle. I straighten this one in Photoshop, by using Perspective crop tool, but I could also have done it in Lightroom, by using "Lens corrections -> Manual -> Vertical and horizontal" sliders.
The photo is a 5 shot HDR, that I merged in Photomatix Pro. I have tried making double tone mapped images in Nik HDR Pro 2, but haven't had a lot of succes with the results.