Travelling in Iceland brings you around to see the some of the most amazing wonders that Earth has to offer.
If you are staying in the capital Reykjavik, you can go on a one day trip by car or get an arranged tour that covers the Golden Circle, which brings you to Geysir, Gullfoss and Thingvellir.
The Great Geysir rarely erupts now a days, but Strokkur which is right next to The Great Geysir, will erupt every few minuts. It will go as high as 35 m.
In the photo you see the great waterfall Gullfoss (the Golden Falls). It's an amazingly big water fall that falls in two large falls as you can see and it looks like the water just plunges into Earth.
The last stop of the Golden Circle (or first depending on which way you drive) is the old historical and cultural center Thingvellir. The vikings used to use the area for it's parliamentary discussions. However, Thingvellir is also interesting from a geological point of view, because it is lies at crest of the mid-atlantic ridge. There's a great cliff ridge that marks the edge.
How did I shoot and post-process this photo?
I shot this photo in rainy conditions using my Nikon D600 with my Nikkor 24-70mm lens. Because it was raining I had to wipe the lens all of the time. To wipe the lens you should use a fiber cloth, to avoid getting any scratches.
What I really wanted when I took the photo, was not to freeze the waterfall, so that I could count every drop, I wanted this silky long exposure waterfall. I started using my Lee Big Stopper filter, which is a 10 stop ND filter (Neutral Density filter), but I thought it was too much and switched to a Lee 2-stop ND filter instead. But what is an ND filter (Neutral Density filter) anyway? A 2 stop ND filter will block the light just so much that I have to double my exposure time twice, which means if the shutter speed was going to be 1/400 sec it would be 2*2*1/400, which is 1/100 of a second. It's like putting a pair of sunglasses on your lens.
In broad daylight a 2 stop ND filter is not quite enough, so I also made the lens as slow as possible, by stopping it down to f/22. Which is the lowest value my lens will go to, and then I shot at ISO 100.
I shot this photo as a 3 shot exposure bracketed shot (AEB), which gives me three photos. One exposure which is 2 steps too dark, one normal and one 2 exposure steps too bright. Like this:
 Minus -2 exposure: EXIF: ISO 100, 28mm, f/22, 1/15 sec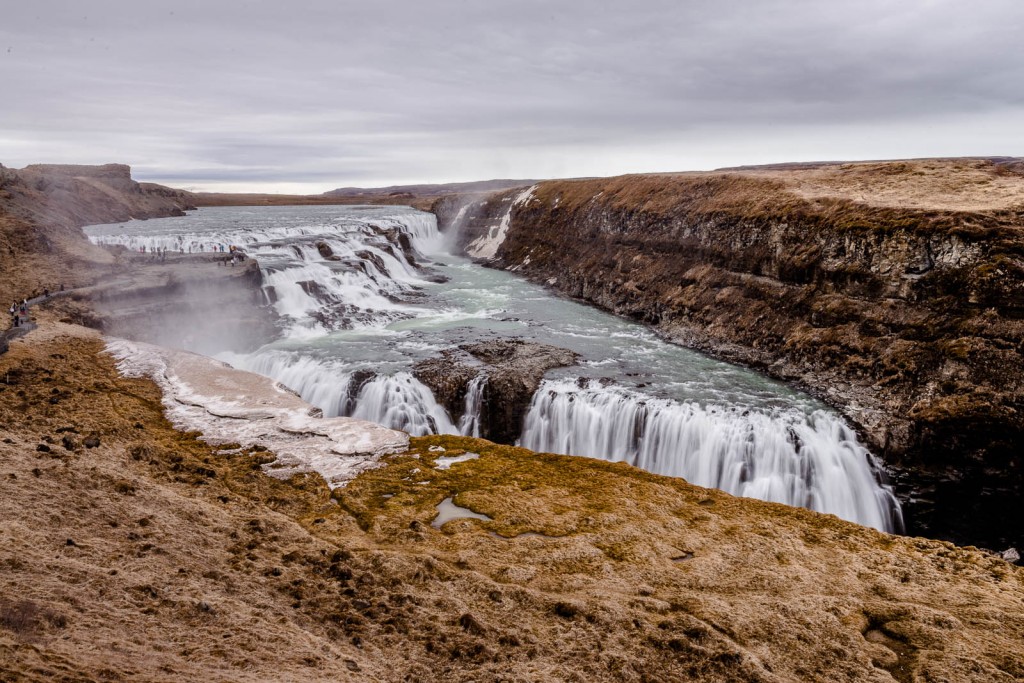 0-exposure: EXIF: ISO 100, 28mm, f/22, 1/4 sec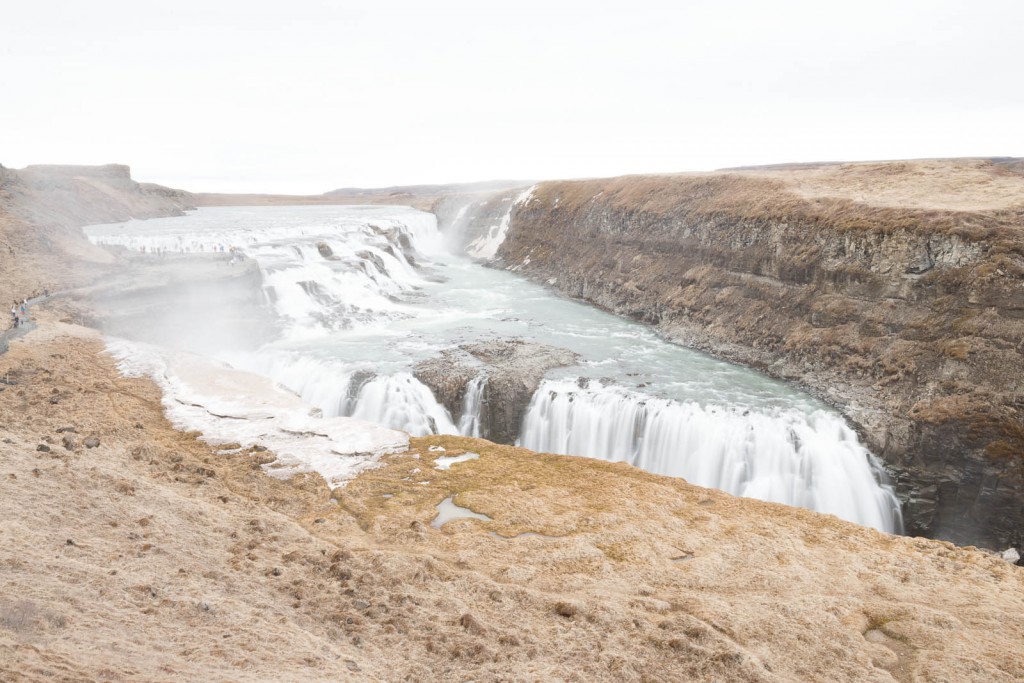 +2 Exposure: EXIF: ISO 100, 28mm, f/22, 1.0 sec
As you can see in the darkest -2 exposure, the water is somewhat frozen, and that was not what I wanted. But from the middle exposure the water looks like silke long hair falling over the edge, just like I wanted it. And the same goes for the +2 exposure.
So what I did in the post processing, was to do an image using Photomatix Pro. I did a fused/natural image and then I did a version in Adobe Light room. The version from Lightroom only had to make the water fall look great, because I was going to use the image from Photomatix for the rest.
The two images I loaded into Photoshop as layers and placed the Photomatix image on top, and by adding a layer mask (here you can see how to do that), I punched a hole through my top layer to get the water fall from the layer underneath. This way I was able to have my Photomatix and my Lightroom version form the final image as a blended image.
Why didn't I just use the waterfall from the Photomatix version? Well, I do like the looks a waterfall that has the silky look. I had taken my time to use an ND filter to get longer exposure times to get that exact effect and Photomatix just ruins that, because it blends three images that are "ghosted" (not identical) in the water fall. At other times, when I take photos of the sea, with waves, I might like the water to be ghosted, because it adds and effect.
And why did I use HDR in the first place? Well in this case it is strictly not necessary, because there is not a lot of dynamic light, but you can also use Photomatix, to get an "effect" or mood into your photo. This I do a lot and I did it in this. But no, it wasn't necessary.