This beautiful aeroplane  'Etrich Taube' is one of the few left in the world. It's the German's first mass produced war plane and it dates back to before the Great Word (World War I). I saw this in Blenheim on the South Island of New Zealand.
Sir Peter Jackson (Director of Lord of the RIngs) has his private collectoin of World War I aero planes stored at the Omaka Aviation Heritage Centre Blenheim. This is one of the first aeroplanes used in war, but you can also find the red baron among a lot of other great planes. What really is impressive, is the way each scene is built up. It's really amazingly detailed and very natural looking. If in the neighbourhood of Blenheim in New Zealand, don't miss out on the Aviation Centre.
About the making of this photo
This photo is an 5 shot HDR. The plane hangs inside a hangar, and while some of the background is cool, the rest is looking like a hangar. As always, when making my photos, I run into trouble with something and have to find a solution to it. Let's look at the original:
As you can see, the scenery is quite nice, with two extra planes, and a war scene behind, however, the background isn't large enough to cover the entire hangar.
I used a few tricks to make the plane look like in a real war scene. The first thing I did was to tone map my HDR photos, to get the look and feel of the aeroplane. This photo I then put into Photoshop and did a motion blur, in the direction of the plane seems to fly. And this I merged in all around the plane.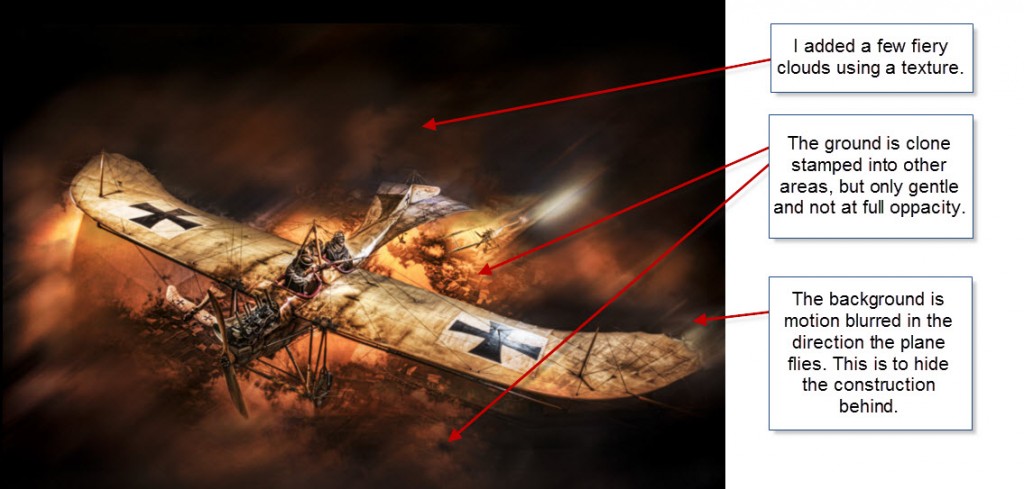 Having added the motion blur, around the plane, certainly helped removing most of the hangar, but the structure is still visible.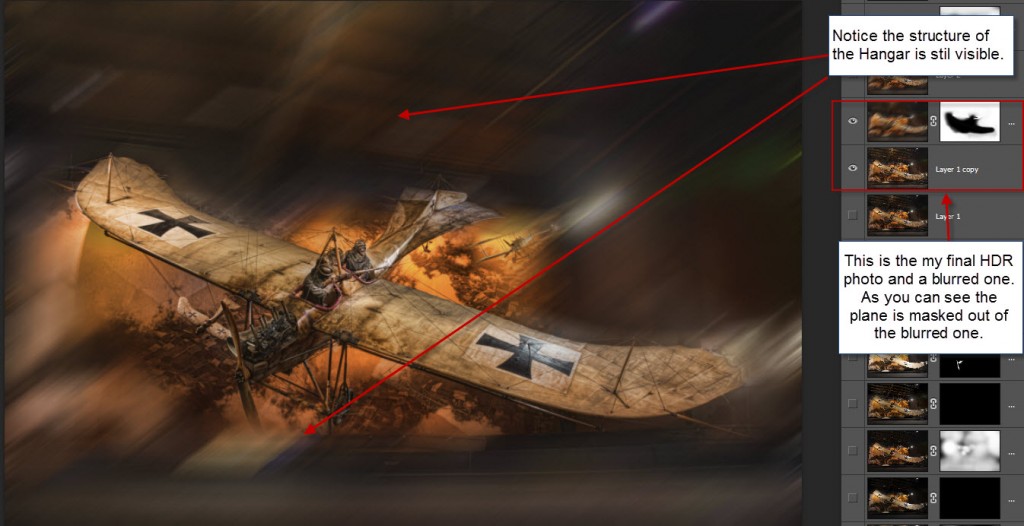 The trick now is to make the rest of the hangar go away. And to do this, I start clone stamping some of the ground, at perhaps 25% opacity. The goal is to get all square lines out of the image or at least not noticeable. This proved difficult with only the ground available for clone stamping.
The original background contained some clouds and I decided to try to to a cloud texture on the photo, and then mix that in, in exactly the same way as I did with the blur. And now I had the material to start removing the hangar.
The important steps, was to remove what gave away, the fact, that the plane hangs inside a building.