Nikon D800, Nikkor 14-24mm, ISO 200, 24mm, f/5.6, 1/400 (-2 exposure)
This shot is from Lake Matheson on the south island of New Zealand. It has an exceptional view of Mount Cook reflecting in the lake. My last post was about the photographers plague, where the building you intended to photograph is covered in scaffolding when you get there. This time it was a cloud covering the summit of Mount Cook. Well, it didn't change the fact that the view and peacefulness at Lake Matheson is absolutely stunning.
This particular photo is handheld. The Lake is surrounded with wood and it's really only a few places that you can shoot and I had to lean out a bit to get this shot. A tripod was no option, and not really necessary either, as it turned out later.
About the processing of HDR like photos in Lightroom
I had 9 handheld exposure bracketed shots ranging from -4 to +4. What I tend to do when I get home from a photo shoot is to scan the images for what is usable and unusable. For this I use my homemade collection of Lightroom presets and click through a few. This usually gives me an idea of where a photo can go. Sometimes I stay in Lightroom, do some more adjustments and finish up in Lightroom.
In this case one of my presets just made this photo. I tried to do my usual workflow, with Photomatix Pro, but I couldn't get a result that matched what I got in Lightroom. I even tried out using NIK HDR Pro 2, but that didn't work out either. After having had the photo lying around for a long time I picked it up again, once more tried the Photomatix, but still couldn't get anything better than what Lightroom gave me. So instead I finished up the Lightroom version.
As I said I used one of my homemade presets. The presets work really well for inspiration, but I usually do some minor adjustsments, because all photos are different.
This is the original unprocessed photo:
To do an HDR like photo in Photomatix, you have to have a RAW file. If you just shoot in JPEG you will find that you do not have enough information in the shadows in particular.
If you have shot a RAW file, like I have done here, you then open up the Shadows and lower the Highlights. You do that by setting Shadows to +100 and Highlights to -100. This results in a bit flat photo, but you can already see that the shadows are not almost black and the bright parts are darker giving a better balance.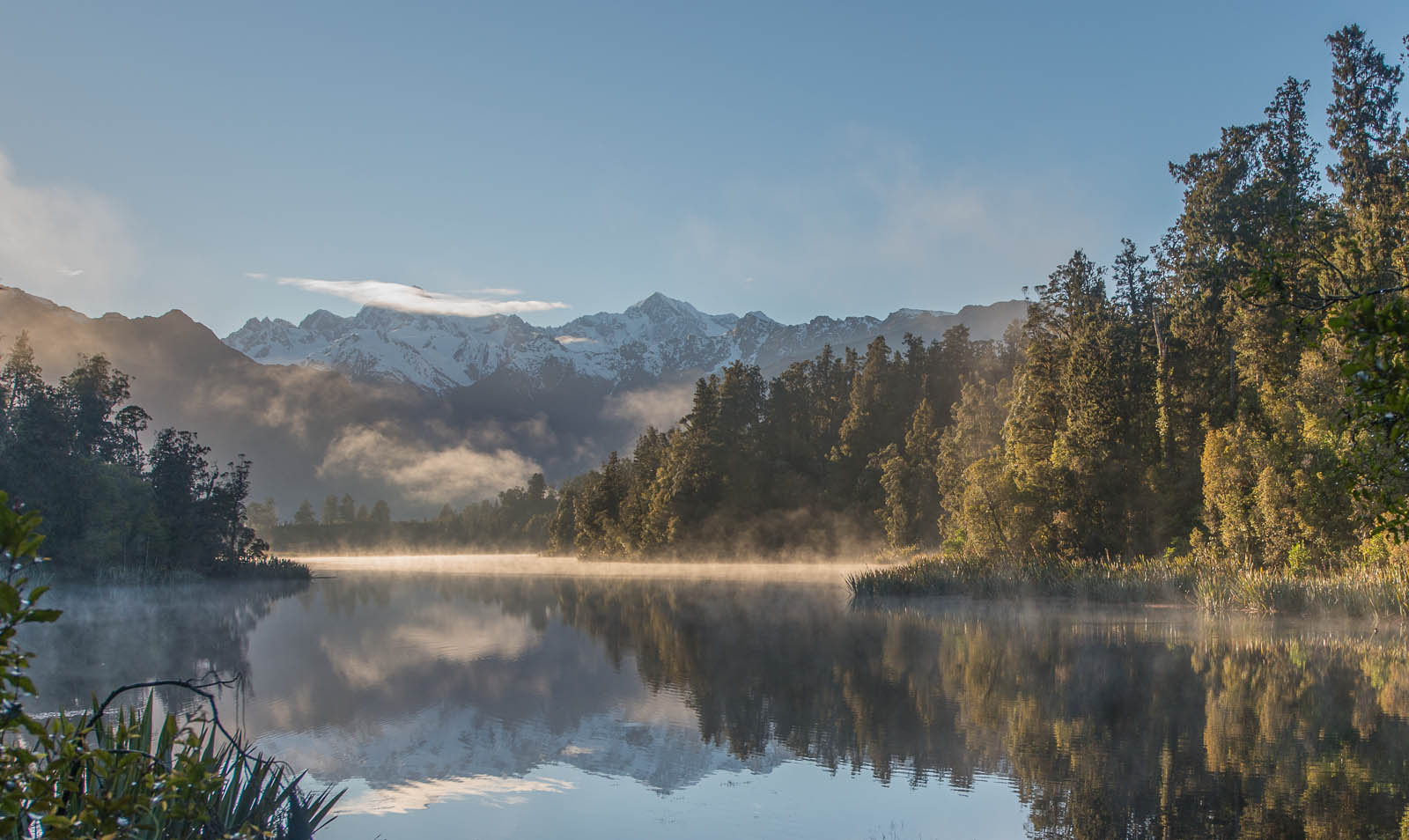 The next step is to get the the Blacks and Whites adjusted to make the most of the information in the RAW file. You do that by spreading out the Histogram (I will do a post on the histogram later).
These are the settings I ended up with: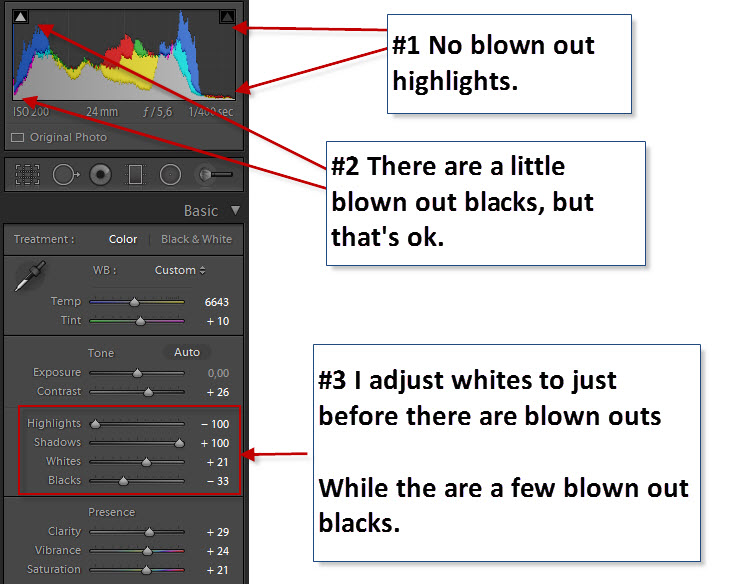 #1: You slide the Whites slider into the possitive area and keep a good eye on the histogram. You will notice it extends to the right. If you keep moving the Whites to the right you will get blown outs, that is completely white pixels. Usually you don't want that. In the upper right hand corner of the histogram is a small triangle. If this get's turned on, you will have blown outs. You can click it to see where or you can press ALT key (command key on Mac) while dragging and you will see the exact spots. You maximize the whites, without getting any blown outs. In this case it's Whites at +21.
#2 Then you do the same for Blacks, except you move it the the left in to the negative area. It's important to have black in your photo, just not too much. I do this visually and stop when I like the result. Usually I can see that the warning triangle in the left hand corner of the Histogram is turned on. But that's ok.
#3 This is where the settings are adjusted.
The result of this step gives you something that looks HDR'ish, but made in Lightroom. What you den can do is shift around on the Contrast and Clarity until you get something you like and you can adjust all of the other goodies that Lightroom offers. At the end, just remember to check the Whites has got blown outs while you worked the image.
Lightroom presets available soon
As I said I use Lightroom presets quite a bit. I use them to get a good start or to get inspired. I have made my own collection. I am still working on finishing it up, but when I am done, I will make it available to buy from this website.
If you are want to get notified when it arrives you can sign up to follow this blog in the lower right hand corner.