The old main building of the University of Copenhagen.
This post is The Weekend Post – sign up on the website, to get it on email. Last week I showed how to get two great and yet somewhat different photos, out of one photo. If you missed it, you can find it here.
This week I will dive into three things, that I find very important to improve if you want to improve as a photographer. I will put this into three solid tips, that will improve your photography. It's not the usual tips, but it's three things that make a big a difference.
We all know the phrases 'Composition is everything', 'Timing is everything' and ' Light is everything', and somehow they seem both to work together, and yet still, if they are not contradictory, at they are least not the same thing. So which is right? Well, sort of all three at the same time.
If you have a poor composition, your photo will, no matter what you do to it in the post-processing, not be very successful. I once read that a bad composition is a turd, and no matter what you do in the post-processing, it will still be a turd. I tend to agree, and yet I have some reservations. I believe it's a balance of several things, the composition being one of them. A weaker  composition, can to some extent be compensated by great light, timing and post-processing, and you will still end up with a successful photo.
Tip #1 Learn to post-process and learn it fast
If you can make everything peak, you will have a stunning photo. If you can get the perfect composition, in the perfect light, with the perfect timing, you will have a perfect photo … IF you know how to process the photo perfectly too. If you do not know how to post-process the 'perfect photo', it will never be a winner.
One of the reasons, why I got into photography, and the very essence of "Caught in Pixels" is the realization, that an SOOC (Straight Out Of Camera) photo usually is not interesting. It is the post-processing, that brings a photo to life. No matter how good your composition, light and timing is, if the photo has a poor processing, everything falls apart. The post-processing is the glue that ties everything together. And the better post-processing, the stronger is the glue.
Far too many people, think that extreme processing makes a good photography, but it doesn't. If you want to have success with your photography, you need to have control of post-processing and have it on a (tight) leash. Have a look at this photo, in a badly processed version, and afterwards in a good processing.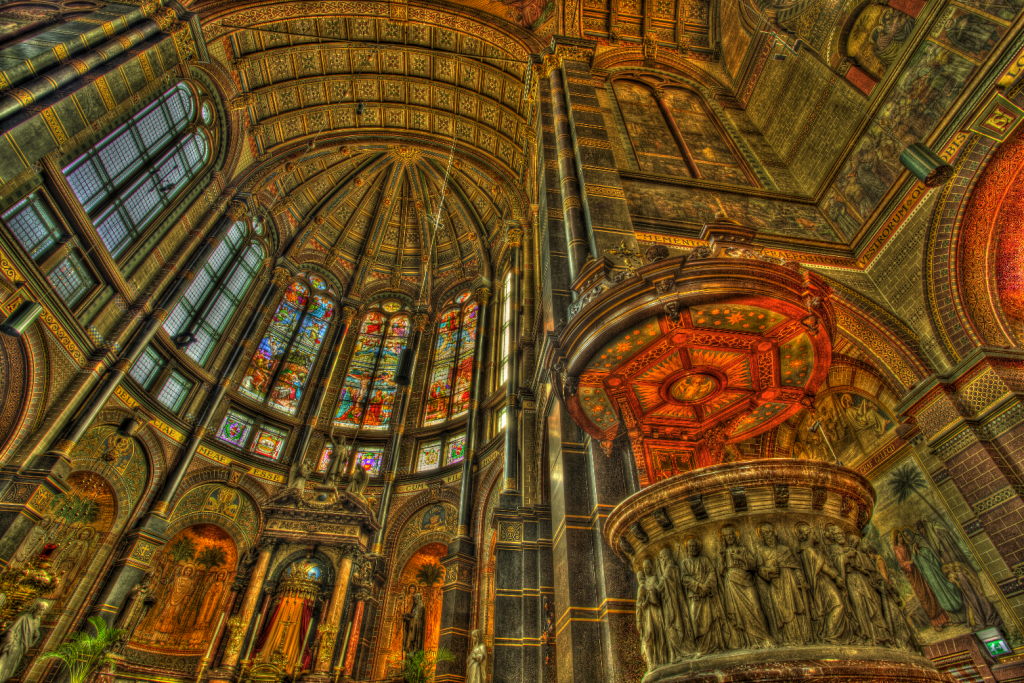 An example of a poorly processed photo. This is a 30 second processing process. It almost hurt my eyes to look at this, and they keep floating around searching for focus points.
And now the exactly same photo, just processed competently.
The same photo processed in a good way. This is a 2-3 hour processing process. This one is much more peaceful, and the eyes wander straight to the pulpit.
In the first version of the photo, is a classically badly processed HDR. And it is that kind of processing, that has given HDR photos a bad reputation. It is too much of everything, and the depth is completely gone, because everything seems equally important. If everything is enhanced, nothing is enhanced.
You might be able to see, that a strong photo and composition is behind the bad processing, but a poor processing takes the away the quality of the photo. In the first version, the first thing that comes into my mind, is 'too much, too much of everything'. In the second version, there is a much stronger balance in the photo, and this is the difference.
I have often received the comment "Normally I don't like HDR photos, but I like this one you have made'". Of course, this makes me happy, but it also makes me think. I have received that kind of comment, where I think I have knocked myself out in HDR, and gone quite extreme, like in this one from Copenhagen Central station:
A heavyly processed HDR photo, with the award "I dont' like HDR, but I like this one".
Why that comment is given to the photo of Central station in Copenhagen, does make me wonder. HDR apparently divides people into two groups, those who like it, and those who hate it. And yet, some of the people, who are dedicated haters of HDR, still likes photos like mine. Even if I have done an extreme HDR processing. Why? I think it is because I have kept a foot in the real world, and I don't have a lot of classical processing mistakes.
There hundreds of ways I could have processed it, and another person could have processed the photo in yet another hundred ways, and anyway would have made it to a successful photo. The way I did it, I just made it mine. I keep depth in the photo, by controlling highlights and shadows. I play with them, and enhance some, and flatten others, but I don't enhance everything, and that is an important part.
If I had released the photo from Copenhagen central station, in a crazy psychedelic HDR processing, like the one from the cathedral above, this would never have received any appraisal from an HDR hater. It would have been categorized as 'a typically HDR'. HDR is not a synonym for bad post-processing, but unfortunately, there are tons of badly processed HDR photos out there.
A large part of my game is HDR, but it is generally applicable. You need to learn to do proper post-processing, to make quality photos.
It requires more than pressing a button or perhaps even investing 30 seconds on processing images, to create something, that is pleasing to more people, even people who are declared 'haters of HDR photography'. That is because the quality of the HDR photos increases, by doing proper post-processing.
Learn post-processing and learn it fast. It's one of the most important factors. Do not rely on 'press a button' processing. In these Instagram and Snapseed days, everyone can do that. Don't be everyone else. Be yourself!
Learn to post-processing, and learn it fast. Be yourself… No, you will not make nearly as many photos in the same time, but wouldn't you rather make high-quality photos? I know I would.
Quality is everything!
I believe that is the truth. It is a much more complex matter, than 'light is everything' or 'composition is everything'. It is about the quality of the photo, and light and composition are factors in this equation, but they can not stand alone. Quality is to an extent a subjective matter, but there are also many objective elements. One of them being, bad processing doesn't fly.
Tip #2 Learn to listen to that little voice inside your head
What you have to do, when making a photo is to strive to get as high a quality as possible. This begins, when you grab your camera, to go out shooting, and goes through many different steps, until you finally stop post-processing, because it is finished.
As time passes by, and your overall skills improve, something else happens. A small voice in the back of your head appears. It says, 'is that good enough?'. It happens when you are post-processing your photos, but also when you are shooting photos. No matter where you hear it, you should pay attention to it.
The first time I was seriously aware of that little voice was when I did this shot. First I did the one on the left, and the little voice said 'You are almost there, you are on the right track, just move the camera a bit'. I heard that little voice, and three shots later, I had the composition working my way.

Moving the camera a bit to the left, and a bit down, as my little voice suggested to me, makes the difference between a nice shot and a killer shot. It was the last but one shot, I shot that morning, because the Sun came out too strong only a few minutes later and had I not listened to the voice, I would not have gotten this photo.
The same goes when you post-process you photos. Learn to listen to that voice saying 'ahh, is that contrast just over the top?' or 'something is missing in that area!' It takes some practice to be able to hear this little voice, but it is usually right. It is about finding a balance, that works well with a photo, no matter if you are aiming at something natural looking or you are aiming, at something more surreal. It has to be balanced nicely.
A classic mistake made by novice photographers, diving into post-processing, is to be too drastic in the post-processing. Too much HDR effect, too much Contrast, too much Clarity or too much saturation. We have all been novices, and have made all the same mistakes. And it is by listening to that little voice, in the back of our heads, that we improve.
There is nothing wrong, by going a little bit crazy, and wild. You just need to balance it in the photo. The sunrise photo, has a crazy wild processing too, but it is only applied locally. And it is a very strong element in the equation, that gives the image a high quality.
In most cases, global adjustments (saturation, contrast etc) to a photo is not enough, to make a photo reach its full potential. I am tempted to say that the whole difference, between a successfully processed photo and a less successfully processed photo, is the ability of the photographer to apply changes locally, accordingly to what is necessary.
This might be a little bit abstract, but in the photo above, I did a lot of standard processing, but what knocks this photo into being something special, is the heavy enhancement of the jetty.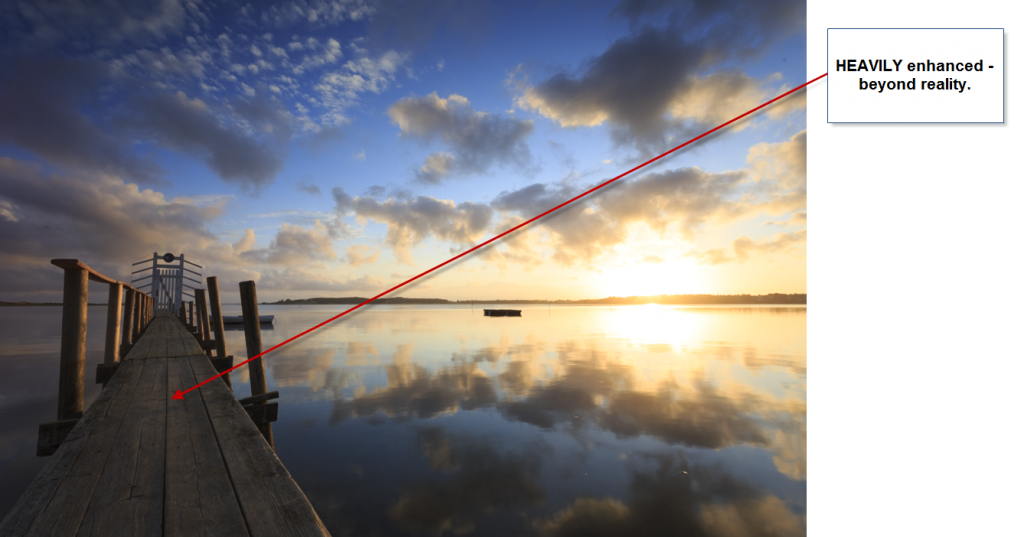 The jetty is heavily processed. The exposure has been increased, and a 100% clarity pen and some detail enhancement from a Topaz Adjust filter have been applied to the jetty. Had I applied those effects globally to my photo, it would have been ruined the balance, due to over processing, but applied to just the jetty is amazing. And it is the little voice in the back of my head that suggests that, and I listen to it.
The little voice in the back of your head will eventually begin to say 'that does not look too interesting, can we either enhance or hide it?' or 'this is the important element, it needs to be popped!'. What is important is that you, listen to that little voice, when it speaks. The little voice is your intuition, and the intuition is MUCH stronger than the rest of your conscious brain.
Learn to listen to that little voice saying 'ahh is that composition or processing good enough?' Usually, that little voice is right, it's you sub-conscience, and it is much more powerful than the rest of your brain. Learn to listen to it, and act on it, to improve your photography. You learn from making mistakes, but only if you notice you make them!
Learn from your mistakes. Your little voice points out your mistakes, listen to it! And learn from it.
Tip #3 Learn to separate the good photos from the bad photos
I have more than 100.000 photos in my library. Even if some are series of 3, 5, 7 or 9 HDR photos, it is still a lot of different photos. I don't have time enough, to process all of them, not yet anyway, but not all are worth processing either. If I was to try to process them all, I would not have enough time at all.
Since I don't have the time, to process all photos, I should only focus on the ones resulting in quality photos. Not all can be killer shots, but certainly above my personal minimum level of quality.
One of the pitfalls I regularly fall into is that I try to process a photo, that is clearly never going to turn out any good. This is something, I have seen other photographers do too. For some reason these photos attract us, I know I am attracted to them because I see them as problems that need to be solved and I love to solve problems. But some problems are just unsolvable or extremely time-consuming to solve, and I end up wasting valuable time, with mediocre results.
A photo might not be worth processing for many different reasons. It could be the clouds that are boring, the wrong time of the day, or even wrong time of the year or simply, that the composition has failed. Some of these things are fixable, and some are not.
Train yourself in identifying the photos worth processing. I use a star system in Lightroom.  When I imporort new photos, into my catalog I rate them 3 stars.
0 stars: Not in the evaluation process
1 star: I will not look at this photo again.
2 stars: Maybe on a rainy day, but probably never.
3 stars: Unevaluated.
4 stars: Has potential
5 stars: Ready to process.
Often I have a lot of different, and yet similar compositions, and picking the strongest ones, takes a bit practice, but it is worth spending that time. You learn a lot from evaluating your own photos.
Sometimes, when you have evaluated your photos, you can see, that if you had moved the camera, or it had been shot at a different time of the day or year, it would have been a better photo. And sometimes, you have the option to actually go back and reshoot. Put the photos in a folder for reshooting, not to forget.
Don't work too long on 'not good enough' photos, you just waste valuable time. If you have the option, go back and reshoot, and that way you will learn from your mistakes. Or move on to other photos, just being able to stop yourself, is learning too.
There is a lot of satisfaction, as well as a lot of learned lessons, gained from going back and reshooting a location, and doing everything right. The right timing and the right composition, and going back home to do the right processing.
This last example shows an example of, how I deliberately went back to shoot a specific scene. When I was there in May and everything was green and just too green. Grass, fields, trees, everything was just green and then more green. Instead, I returned not long before the harvest, when the fields had turned yellow and I reshot. The Sun was in a different location at sunset, and I had to move into the field, to get the Sun behind the trees in the far background. This allowed me to use the tracks in the field as leading lines.

The photo on the right couldn't have been shot in May, even if the sunset was nice in May, and it was nice. This I could do, because this is pretty close to where I live, and I can just go there.
If you are travelling, you might not have the option to go back, and yet you still might have. I often travel to cities, and as it turns out, you often pass the different locations more than once. Often during the day as well as night. What I have begun to do, is to shoot daytime photos, and review them, and then go back and reshoot early in the morning or in the evening. This way, I get some 'practising' time.
Doing this, saves me time later, because the sorting processes will be easier, simply because I have less photos, trying to find the best composition.
Summary
These three tips require something of you, but photography does! You can not improve your photography, if you do not put some kind of work into it. There is no silver bullet, only sweat. Some of the things, might come easier to some of you, while others have to work harder. But eventually, if you work hard enough, you can succeed.
These three tips, will make you a better photographer, and remember a photographer is not only, about being in the field. It is also about bringing a photo to life in the post-processing. And because, it is only you, who does things the exact same way, as you do, you will get your own style, in time.
–Jacob Surland