Nikon D800, Nikkor 14-24, ISO 400, 14mm, f/4.5, 1/25 sec
By pure random coincidence I arrived in Chicago on Sct Patricks day. I went for a walk and saw one of the landmarks: Chicago Theater. I would have loved to go inside, but on a short business trip, you're not always allowed that luxury.
This photo is processed in Lightroom. The main things I have done to this photo is correct perspective and then change the White balance, and then do a little dodge and burn.
Some photos work absolutely best when the colors are as close to natural as possible, while others are quite different. In particular shots around sunrise and sunset really can change mood quite a lot, if you change the white balance.
Have a look at the before photo: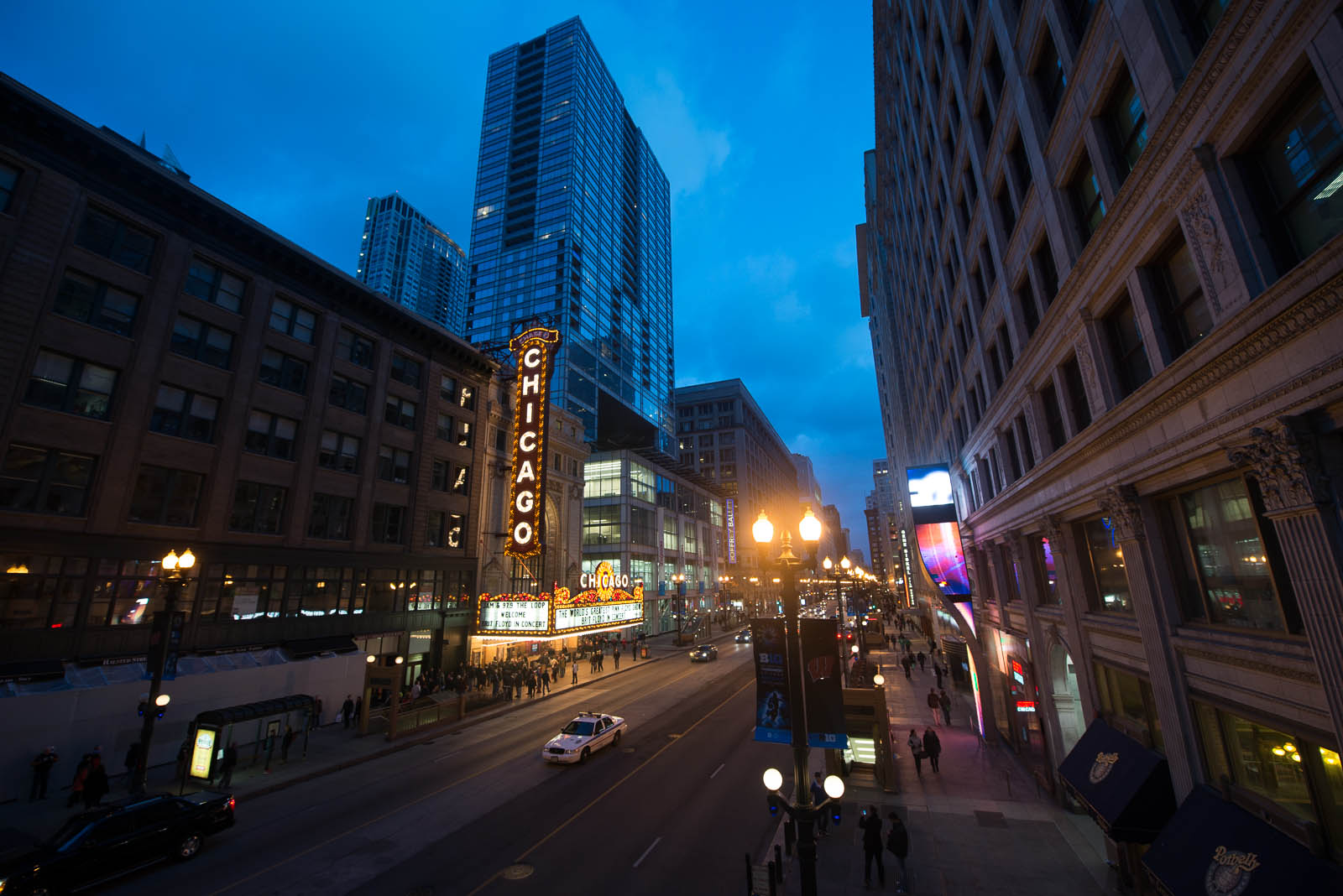 As you can see a much colder and less interesting photo. Reality is probably somewhere in between my final photo and this one. The camera is trying to deal with both natural light in the sky and electric light and chooses something in the middle, not really working.
I changed the color temperature from 3200 to 5800 in Lightroom. That added the nice and warm colors. Chicago in March, however, is a cold experience and I learned that Chicago is not named the Windy City for nothing. It was freezing cold and my colleague had to buy a winter coat! The warmth of the photo does not reflect the actual temperature, but then again, I'm not in business of portraying reality exactly, but rather in the business of making photos that I like.
When you have these golden hour or blue hour photos, always try to make the photo a little warmer and see if you get something nice.  This is another example from just after sunset, in this case I made it colder and that also changed the photo dramatically.