Buy a Print of London Tower Bridge
I love London and have done so since the very first time I was there in 1989. I lived there from 1991 to 1992 and have spend much time experiencing London. There are so many things to see and do in London – including crossing the London Tower Bridge. Many things have changed in the past twenty odd years, a lot of new buildings, a city skyline, new colors on the London Tower Bridge, the Millennium Wheel etc. London has changed and moved as a city should do.
This particular photo I had somewhat in my mind before I even traveled to London. First I got 7 bracketed shots to be used for an HDR. These I took using automatic exposure bracketing mode (AEB) and because I used the timer and the automatic bracketing I didn't really have any control of how a bus would look in the photo. So what I did was to concentrate on getting my 7 shots with as few people and cars as I could. I had my camera on a tripod and after my 7 shots, I left the camera on the tripod without moving it. I switched to manual (M) on my camera and adjusted the ISO and shutter speed till I got the exposure length that was long enough to show the bus as lines in a long exposure. I practiced on cars passing by. In this case I used 1.6 seconds, which gave nice long lines. When my exposure was adjusted I just had to wait for a London bus. It was getting late and the buses didn't come in as great numbers as earlier, but I was lucky to get one. So when the bus was right next to me, I pressed the shutter release and that gave me the long exposure of the bus.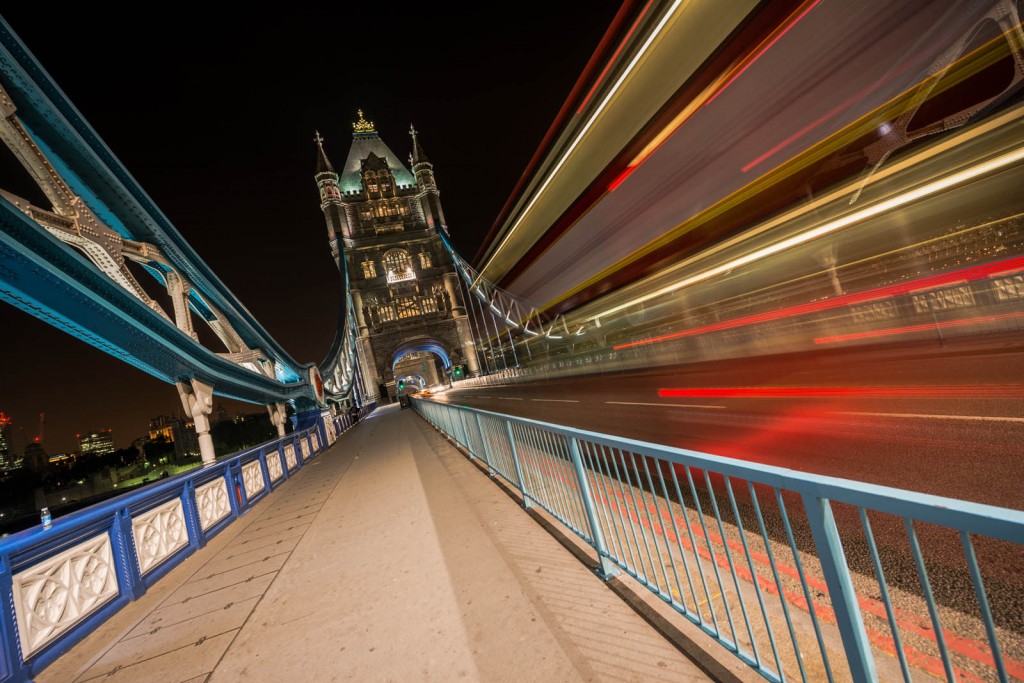 Nikon D800, Nikon 14-24mm, ISO 100, 14mm, f/5.0, 1.6 sec
I then processed my London Tower Bridge HDR photo using Photomatix Pro and Photoshop. Afterwards I did a little Lightroom processing on the bus photo, to make the look and feel match the HDR image. I then loaded the two images into two different layers in Photoshop CS and blended the bus with the HDR photo to the final result.