Christianshavn Canal in Copenhagen shot using Sony A7R and Nikon 16-35mm VR and the Metabones adaptor.
I really have a love and hate relationship with my Sony A7R. I love the size of the camera, and the sensor is fantastic. What I am missing is proper lenses. I have the 24-70mm lens, which I am pretty happy with, and then I have the Sony 10-18mm. The 10-18mm is designed for APS-C sensor cameras, but I can use it as a full frame lens, from 14-16mm or so. However, I do find it so bad used as a full frame lens, that I don't use it like that. It's terrible soft in the corners, and it gives me mustache distortion, which is next to impossible to get a decent result from. I use it 'cropped', which leaves me with 15.3-megapixel images, which I, of course, can use, but I really want to use the 36 megapixels I have in my camera.
Since I don't have a money tree in my garden, I haven't bought the Sony 16-35mm, but it is on my wish list. Instead, I end up using a Metabones adapter and my Nikon lenses if I want to go really wide. In theory, this works very nicely, but it is not perfect. I have no auto focus, this I can live with in most cases. What's worse, is that I don't get the EXIF information transferred from the lens to the camera. While this may seem less important, at first, it still is very frustrating.
A photo like this one from Christianshavns Canal in Copenhagen, I shot in November, but I don't recall the focal length or the f-stop anymore. I do remember that I used my Nikon 16-35mm VR lens. This lens has a pretty strong barrel distortion, which I have to fix on photos like this. But I can't use automatic lens correction, neither, instead I have to do it manually. What I have done to make things easier for me, is to make this a Preset in Lightroom, with a manual lens correction. This is a good start, but at different f-stops and focal lengths, I have to change the settings slightly.
I always carry the A7R and the 24-70mm and the 10-18mm lens in my bag, because it's so small that I can have it in a very small bag. But when I go out shooting for real, I have not used it a lot. This particular morning I only brought the Sony A7R and the Nikon 16-35mm, to force me to use it. But I really prefer to use my Nikon D800 for serious shooting.
But there has been a turn lately. I found a super clamp from Manfrotto, which I can screw on my tripod, and that allows me to use TWO cameras at the same time. And that is something. I now have my Nikon D800 mounted on the primary ball head and on the Manfrotto Super Clamp I have the Sony A7R, and then I have two different lenses and different compositions. This is awesome: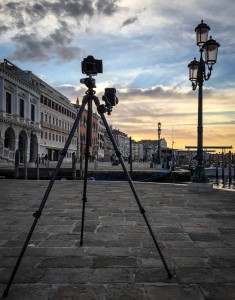 I got my Manfrotto Super Clamp at B&H, and it's really not that expensive. It's called a Manfrotto Super Clamp 035 with a stud.