There are many ways of making HDR photos and this is yet another way. I have used Merge to 32-bit HDR, a plugin for Lightroom, made by HDR Soft who also makes the state of the art HDR software Photomatix Pro. Merge to 32-bit HDR just does the first step of what Photomatix does. It merges your photos into one 32-bit TIFF photo and reimports it back into Lightroom. It does not do any tone mapping of the photo and the result is quite neutral when it get's into Lightroom. But the photo is loaded with  information from all of your bracketed photos and you can start playing around with the development module in Lightroom and get the most impressive things out of your photo.
One of the huge advantages doing an HDR in this way, is that you don't get the noise that tone mapping sometimes gives. And it really is very easy in many ways, especially if you start to build or gather a collection of Lightroom presets. Over the last few months I have been creating presets in Lightroom, which really makes sense, because I save a lot of time when I post process my photos. Not only do presets work as … well presets … a lot of preset post-processing configurations, but it has another advantage, they inspire me. Presets give me ideas and inspiration as I try out some of the presets. I might not use a preset as the single click post-processing, but it does give me a good (and fast) start.
I quite fond of my presets and I'm working on making my Lightroom presets available from this website in the near future. I will make them available along with a guide to explain the concepts and ideas to what I do and how the presets work and can be used, with some examples.
I already showed, that you make HDR photos, even though you are using Lightroom post-processing. I showed how to use Lightroom and GIMP to make an HDR (you can find the tutorial here). And now I will show how to do it with Merge to 32-bit HDR and Lightroom to make an HDR photo.
Merge to 32-bit HDR from HDR Soft
You need both Lightroom and Merge 32 from HDR Soft. If you use the Discount code "caughtinpixels" on HDR soft you will get a 15% discount when you buy anything from HDR Soft. You can also buy it bundled with Photomatix Pro
'Merge to 32-bit HDR' plugs it self into Lightroom. First you select your bracketed photos, like I just selected my 5 bracketed photos below. Then you start the export into Merge to 32-bit HDR this way: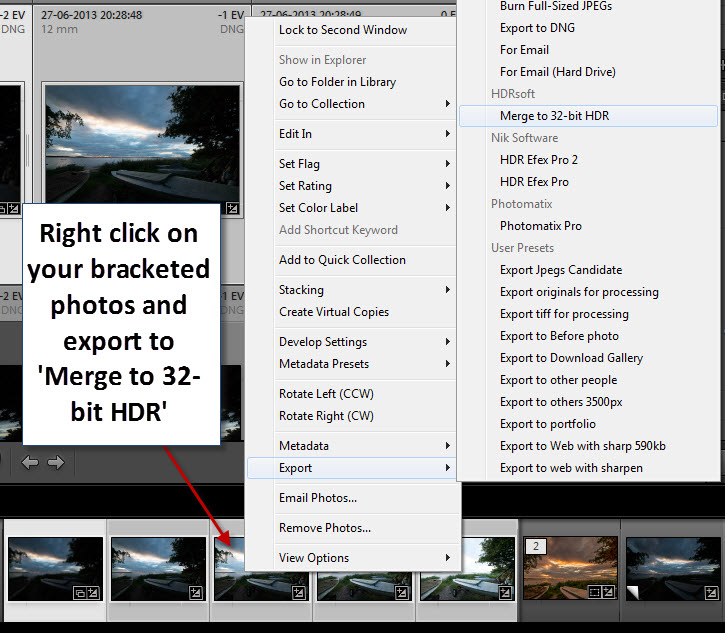 You then get some options. Normally I really do recommend a different process to remove ghosting in your photos, but on the other hand, if the automatic deghosting does a good job, you are done quickly and if it doesn't give a good result, you can always turn to my recommend procedure. My recommended process is to mask one of the photos into the HDR photo, where the photo is ghosted. You can do that using either GIMP or Photoshop. With this particular photo, I think deghosting did a good job.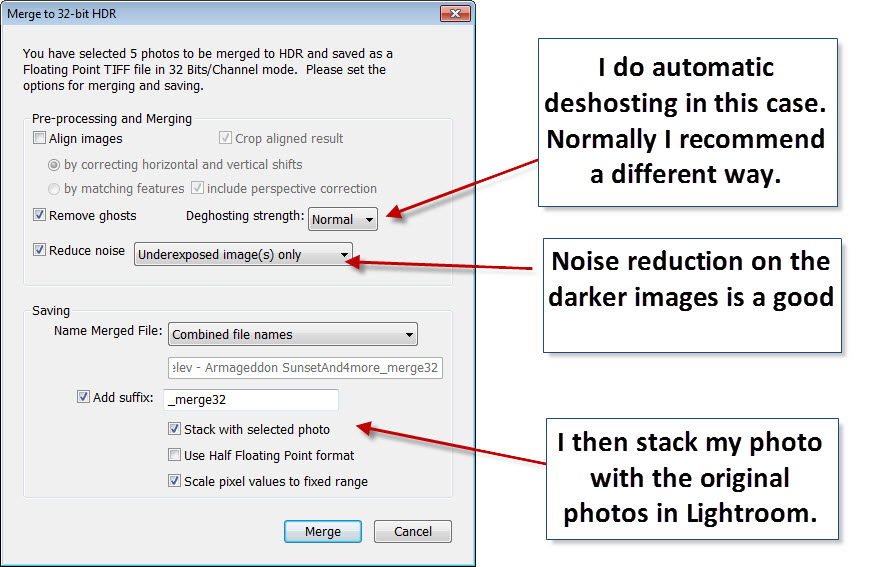 When the photo is reimported into Lightroom it's a neutral flat and a bit dark photo, which is completely unprocessed: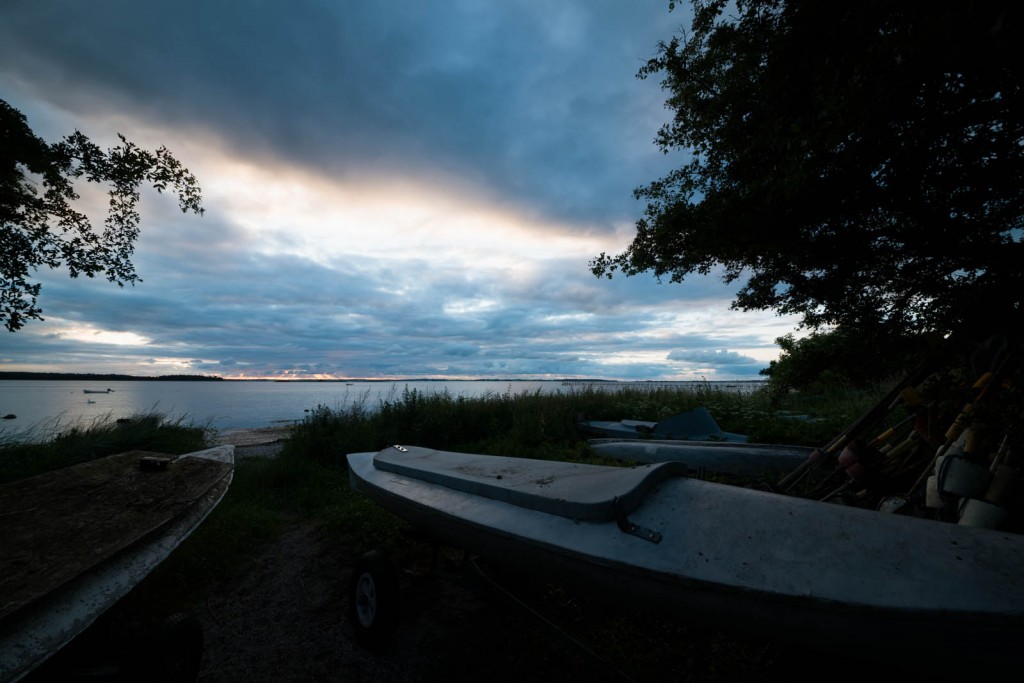 I then applied one of my presets called Armageddon Sunset Revisited. It adds an orange hue to a sunset photo giving it this very sunset feeling. I did do one more thing. I want the boat in front to pop a little more. By using the brush feature in Lightroom, I painted on the boats and the small path, and increased the exposure and contrast a bit.
When I merge my 5 exposure bracketed photos into one 32-bit tiff file I have got a lot more information, than I just had in 1 RAW file. TIFF files comes in 8-bit, 16-bit (the normal) and 32-bit – the more bits, the more information. When you do HDR's and tone mapped images, the 32-bit image is an intermediate product, that you normally don't use or see, but this tool just exports it. The more information there is in one image, the more details I can extract from the shadows and the highlights, and a 32-bit file can contain A LOT more information than any RAW file can contain. But it also takes up a lot of hard drive. My Nikon D800 produces 400+ Mb 32-bit TIFF files, when made from 5 HDR shots. So the 32-bit TIFF files, are not keepers in my world- they are intermediate products I delete, when I have made my final image. I then export my final image as a 16-bit TIFF file and reimport and delete the 32-bit TIFF file to save disk space.
If you have Lightroom and want to try out this way of making HDR photos, you can buy Merge to 32-bit HDR from HDR Soft with a 15% discount by using my discount code "caughtinpixels".
And soon you will be able to get my Lightroom presets from this website.